iMovie '11 & iDVD: The Missing Manual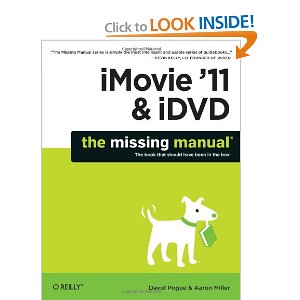 Apple's video-editing program is better than ever, but it still doesn't have a printed guide to help you get started. That's where this gorgeous, full-color book comes in. You get clear explanations of iMovie's impressive new features, like instant rendering, storyboarding, and one-step special effects. Experts David Pogue and Aaron Miller also give you a complete course in film editing and DVD design.
Edit video like the pros. Import raw footage, add transitions, and use iMovie's newly restored, intuitive timeline editor.
Create stunning trailers. Design Hollywood-style "Coming Attractions!" previews for your movies.
Share your film. Distribute your movie in a variety of places—on smartphones, Apple TV, your own site, and with one-click exports to YouTube, Facebook, Vimeo, CNN iReport, and MobileMe.
Make DVDs. Design the menus, titles, and layout for your DVDs, and burn them to disc.
About the Author
David Pogue is the weekly personal-technology columnist for The New York Times and an Emmy-award-winning tech correspondent for CBS News. His funny tech videos appear weekly on CNBC. With 3 million books in print, he is also one of the world's bestselling how-to authors. In 1999, he launched his own series of amusing, practical, and user-friendly computer books called Missing Manuals, which now includes more than 100 titles.
Aaron Miller is a part-time lawyer, part-time professor, and runs a software company serving nonprofit organizations. In all of his spare time, he authors the blog "Unlocking iMovie" (www.unlockingimovie.com), his own little way of trying to make the Mac world a better place.
Book Details
Paperback: 544 pages
Publisher: Pogue Press (March, 2011)
Language: English
ISBN-10: 1449393276
ISBN-13: 978-1449393274
Download [52.4 MiB]