Learning to Photograph – Volume 1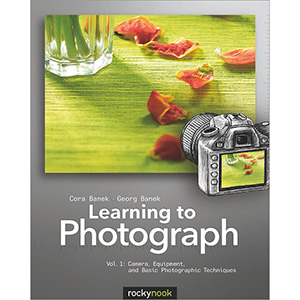 The two volumes of the Learning to Photograph series give students and interested amateur photographers essential information about technique and design as well as an understanding of the big concepts of photography.
This first volume brings readers up to speed on the basics of camera technology: optics and exposure. The authors provide an overview of these technical elements before going into detail about how cameras and lenses work and how they influence one another. Building upon this foundation, the authors discuss the practical application of this knowledge, showing readers how to put this information to use to create images and realize ideas effectively.
The numerous example photos and informational graphics not only illustrate the concepts at hand, but also make the lessons visually pleasing and offer inspiring templates for readers to imitate in their own craft.
Topics include:
Optics and lenses
Exposure metering and control
Image sensors, viewfinders, and displays
Live view and video functionality
Flash units and additional accessories
The right camera
Photo technology in practice
The subsequent volume in the Learning to Photograph series addresses visual concepts and composition.
Table of Contents
01. A Bit of Photo Theory
02. An Overview of Photography Technology
03. Optics and Lenses
04. Exposure Metering
05. Exposure Control
06. Additional Camera Functions
07. Accessories
08. The Right Camera
09. Photo Technology in Practice
10. What Type of Photographer Are You?
11. Development
12. Mastering Your Camera
Book Details
Paperback: 256 pages
Publisher: Rocky Nook (August 2013)
Language: English
ISBN-10: 1937538206
ISBN-13: 978-1937538200
Download [102.4 MiB]