Mastering the Nikon COOLPIX A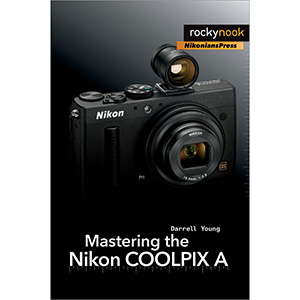 Mastering the Nikon COOLPIX A by Darrell Young provides experience-based information for owners of the new COOLPIX A camera. In this ebook, Darrell helps the user navigate past the confusion that often comes with learning to use complex camera equipment.
This ebook explores the features and capabilities of the camera in a way that far surpasses the user's manual. It includes an in-depth look at the camera's controls and functions. It guides readers through the camera features with step-by-step setting adjustments; color illustrations; and detailed explanations for each option. Every button, dial, and menu configuration setting is explored in a user-friendly manner, with suggestions for setup according to various shooting styles.
Darrell's friendly and informative writing style allows readers to easily follow directions. In this new COOLPIX A manual, Darrell provides information on the camera's functions, as well as basic photography techniques, as part of the complete learning experience.
Table of Contents
Chapter 1. Basic Camera Setup
Chapter 2. Live View, Information Display, and Quick Menu
Chapter 3. Playback Menu
Chapter 4. Shooting Menu
Chapter 5. Setup Menu
Chapter 6. Retouch Menu
Chapter 7. My Menu and Recent Settings
Chapter 8. Autofocus, AF-Area, and Release Modes
Chapter 9. Metering, Exposure Modes, and Histogram
Chapter 10. White Balance
Chapter 11. Creating HD Videos
Appendix. Camera Control Reference
Book Details
Paperback: 375 pages
Publisher: Rocky Nook (November 2013)
Language: English
ISBN-10: 1937538400
ISBN-13: 978-1937538408
Download [48.6 MiB]