Exposed: Inside the Life and Images of a Pro Photographer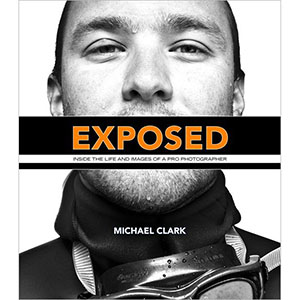 Photographer Michael Clark provides an inside look at the reality of working in extreme conditions to capture and process his breath-taking images. He offers start-to-finish details of some of his most demanding assignments–rock climbing, big wave surfing, sky diving, and mountain biking–sharing his personal shooting expertise, on-the-fly problem solving skills, and photography post-processing techniques in Adobe Photoshop Lightroom and Adobe Photoshop (including Lightroom 4 and Photoshop CS6).
This gorgeous guide for intermediate to advanced DSLR shooters is packed with practical tips, detailed lighting setups, and behind-the-scenes stories from a variety of Clark's most challenging adventure photography assignments. With an engaging writing style and cliffhanger details, the author allows you to tag along with him to improve your skills and find inspiration to create images instead of just taking them. He also covers the important business aspects of working as a professional shooter.
A DVD-ROM with 149-minutes of video shows the author's post-processing workflow using Lightroom 4 and Photoshop CS6 for 16 of the images featured in the book. He also includes a how-to primer on these software programs, as well as provides a primer on color management. Clark's valuable insights and tips will guide professional and aspiring photographers interested in turning their passion into a profession as well as amateur photographers looking to improve their skills.
Table of Contents
Chapter 1. Some Days are Better than Others
Chapter 2. Chasing Shadows
Chapter 3. On Assignment: The Wenger Patagonian Expedition Race
Chapter 4. Rolling with It
Chapter 5. Expanding the Portfolio
Chapter 6. On Assignment: Men's Fitness
Chapter 7. Turning Points
Chapter 8. Under Pressure
Chapter 9. On Assignment: Red Bull Air Force
Chapter 10. Taking Time to Shoot for Yourself
Chapter 11. Keeping the Fires Stoked
Chapter 12. On Assignment: The Eddie Aikau
Chapter 13. Be Prepared to Suffer
Chapter 14. Wrapping Up
Appendix A. Equipment
Appendix B. Color Management Resources
Book Details
Paperback: 288 pages
Publisher: New Riders Press (April 2012)
Language: English
ISBN-10: 0321811232
ISBN-13: 978-0321811233
Download [64.7 MiB]