Google+: The Missing Manual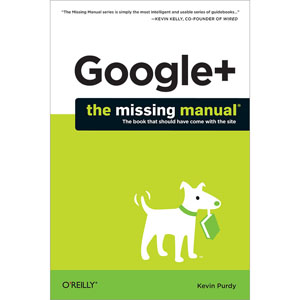 If you want to gain more control over your social networking activities with Google+, this jargon-free guide helps you quickly master the ins and outs of the site. Learn how to organize your contacts, hold video chats with as many as ten people, and determine exactly who may learn what about you. With this book, you'll navigate Google+ with ease.
The important stuff you need to know
Massage your profile. Control what the public, specific groups, or certain individuals can see about you.
Move in the right circles. Assign folks to different groups and share the right stuff with the right people.
Jump into streams. Get all the updates, pictures, and links from people you know.
Host hangouts. Organize and attend group video chats.
View and share photos. Make them available to whomever you like—whether or not they're Google+ members.
Get notifications. Monitor what others do (and share about you) on Google+.
Go mobile. Use Google+ on your Android, iPhone, or mobile web browser.
Table of Contents
Chapter 1. Getting Started
Chapter 2. Managing Contacts with Circles
Chapter 3. Streams, Sharing, and Privacy
Chapter 4. Notifications
Chapter 5. Sharing Photos and Videos
Chapter 6. Hanging Out
Chapter 7. Searching and Sparks
Chapter 8. Google+ Mobile
Chapter 9. Playing Games
Book Details
Paperback: 232 pages
Publisher: O'Reilly Media (December 2011)
Language: English
ISBN-10: 1449311873
ISBN-13: 978-1449311872
Download [26.9 MiB]