Mac OS X Lion: The Missing Manual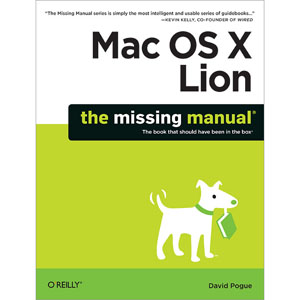 With Lion, Apple has unleashed the most innovative version of Mac OS X yet—and once again, David Pogue brings his humor and expertise to the #1 bestselling Mac book. Mac OS X 10.7 completely transforms the Mac user interface with multi-touch gestures borrowed from the iPhone and iPad, and includes more 250 brand-new features. This book reveals them all with a wealth of insight and detail–and even does a deep dive into iCloud, Apple's wireless, free syncing service for Macs, PCs, iPhones, and iPads.
Perfect for newcomers. Get crystal-clear, jargon-free introduction to the Dock, the Mac OS X folder structure, Safari, Mail, and iCloud.
Go in-depth. Learn how use key new features such as full-screen apps, Mission Control, the new Mac App Store, Launchpad, Resume, Auto Save, Versions, AirDrop, and more. Are you even more of a power user? Learn to set up a network, make a Lion flash drive, and even learn the basics of Lion's underlying Unix.
There's something new on practically every page of this new edition, and David Pogue brings his celebrated wit and expertise to every one of them. Apple's brought a new cat to town, and Mac OS X Lion: The Missing Manual is the best way to tame it.
Table of Contents
Chapter 0 The New Lion Landscape
Chapter 1 Folders & Windows
Chapter 2 Organizing Your Stuff
Chapter 3 Spotlight
Chapter 4 Dock, Desktop & Toolbars
Chapter 5 Documents, Programs, & Mission Control
Chapter 6 Entering Data, Moving Data & Time Machine
Chapter 7 Services, Automator & AppleScript
Chapter 8 Windows on Macintosh
Chapter 9 System Preferences
Chapter 10 The Free Programs
Chapter 11 CDs, DVDs & iTunes
Chapter 12 Accounts, Parental Controls & Security
Chapter 13 Networking, File Sharing & AirDrop
Chapter 14 Printing, Scanning, Fonts & Graphics
Chapter 15 Sound, Movies & Speech
Chapter 16 The Unix Crash Course
Chapter 17 Internet Setup & iCloud
Chapter 18 Mail & Contacts
Chapter 19 Safari
Chapter 20 iChat
Chapter 21 SSH, FTP, VPN & Web Sharing
Appendix Installing Mac OS X Lion
Appendix Troubleshooting
Appendix The Windows-to-Mac Dictionary
Appendix The Master Mac OS X Secret Keystroke List
Book Details
Paperback: 928 pages
Publisher: O'Reilly Media / Pogue Press (October 2011)
Language: English
ISBN-10: 1449397492
ISBN-13: 978-1449397494
Download [47.0 MiB]