Office 2013 All-In-One For Dummies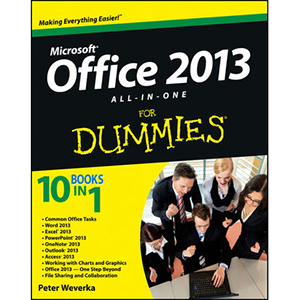 Home and business users around the globe turn to Microsoft Office and its core applications every day. Whether you're a newcomer or a veteran Office user, this friendly-but-informative guide provides in-depth coverage on all the newest updates and enhancements to the Office 2013 suite. With an overview of tools common to all Office applications and self-contained minibooks devoted to each Office application, Office 2013 All-in-One For Dummies gets you up to speed and answers the questions you'll have down the road.
Explores the new Office interface and explains how it works across the applications
Features eight minibooks that cover Word, Excel, PowerPoint, Outlook, Access, Publisher, OneNote, common Office tools, and ways to expand Office productivity
Highlights the new online versions of Word, Excel, and PowerPoint as well as changes to the interface and new tools and techniques
Office 2013 All-in-One For Dummies makes it easy to learn to use Office and gets you up and running on all the changes and enhancements in Office 2013.
From the Back Cover
10 books in 1
Common Office Tasks
Word 2013
Excel® 2013
PowerPoint® 2013
OneNote® 2013
Outlook® 2013
Access® 2013
Working with Charts and Graphics
Office 2013 — One Step Beyond
File Sharing and Collaboration
Want to get things done with Office 2013? This book is for you!
Technology is supposed to help us get things done faster and more efficiently. With the tips, shortcuts, and how-tos in this book, you'll be able to do just that with Office 2013. Master all the features the different applications have in common, and then learn how to get the most from each individual part of Office, use Office Web Apps, and more!
They're a set — discover the commands and features that are common to all the Office programs
Words and numbers — learn how to create every type of document in Word and how to crunch numbers, design worksheets, and analyze data with Excel
"Wow" presentations — put together and deliver PowerPoint presentations that get attention and really communicate
Your note-taking assistant — find out how OneNote helps you keep written, audio, and video notes and even link them to web pages
An organized Outlook — track and manage e-mail, contacts, tasks, and calendars with Outlook
Access data — create an Access database and discover how useful it can be
Unlock more surprises — explore customizing Office, creating brochures and newsletters with Publisher, managing folders on SkyDrive, and more
Open the book and find:
Tips for customizing Office
How to create professional- looking Word documents
A quick course in Excel formulas and functions
Hints for creating picture-perfect PowerPoint slides
The art of OneNote note-taking
How Outlook can keep you organized
Cool ways to build eye-popping charts
Secrets of successful collaboration
Book Details
Paperback: 816 pages
Publisher: For Dummies (February 2013)
Language: English
ISBN-10: 1118516362
ISBN-13: 978-1118516362
Download [30.2 MiB]