Getting Started with Oracle SOA B2B Integration: A Hands-On Tutorial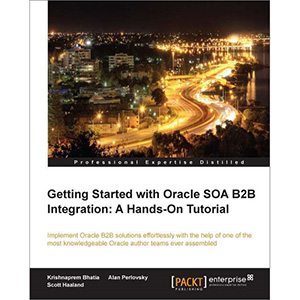 Enterprises engaging in B2B communications with their trading partners are facing increased pressure to increase automation and reduce costs. Increased compliance requirements and globalization of economies is fueling B2B adoption in every industry. Gateway solutions in Oracle SOA B2B enable these enterprises to connect easily with external trading partners.
Getting Started with Oracle SOA B2B Integration: A Hands-On Tutorial will show you how to use Oracle B2B platform to extend your current business processes to connect with your external trading partners in an automated, secure fashion, using industry standard B2B protocols. It will show you how to set up documents, partners and agreements and manage your B2B transactions end-to-end, all the way from application to trading partners and vice versa.
Starting with an introduction to the B2B industry you then be introduced to Oracle B2B and SOA platforms. You will then begin creat document definitions and get you started with trading partner management. Once you have a solid grounding you will then be taken into the more complex topic of SOA. Integration, reporting, and monitoring will all be covered in detail.
Then you will be shown how to secure your B2B distribution, security is an essential part of all businesses and B2B is no different. Finally you will be introduced to advanced topics that should give you the skills and knowledge to easily go out and do all of this again with next to no guidance.
Utilizing the combined experienced of one of the most knowledgeable Oracle B2B author teams assembled this step-by-step practical guide provides you with the essential information required to implement Oracle B2B solutions including multiple hands-on tutorials that will help you get up and running quickly.
What you will learn from this book
Learn about the B2B industry including different B2B standards
Gain vital knowledge about Oracle B2B as a whole
Install and use Oracle Document Editor to create guideline files, generate sample data and perform validation for different document types
Set up document definitions and trading partners
Understand the B2B process flow and lifecycle
Integrate with SOA Suite including creating SOA composites, B2B services and B2B references
Tune performance for mission critical and high volume use cases, managing deployments, migration of configurations to production environments, and management of metadata
Approach
This hands on tutorial gives you the best possible start you could hope for with Oracle B2B. Learn using real life scenarios and examples to give you a solid footing of B2B.
Who this book is for
This book is for B2B architects, consultants and developers who would like to design and develop B2B integrations using Oracle B2B. This book assumes no prior knowledge of Oracle B2B and explains all concepts from scratch using illustrations, real world examples and step-by-step instructions. The book covers enough depth and details to be useful for both beginner and advanced B2B users.
Book Details
Paperback: 332 pages
Publisher: Packt Publishing (July 2013)
Language: English
ISBN-10: 1849688869
ISBN-13: 978-1849688864
Download [30.1 MiB]