Your iPad at Work, 2nd Edition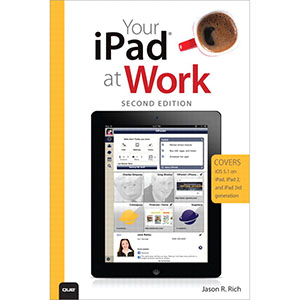 Your iPad at Work, Second Edition
Supercharge your business effectiveness with any model of iPad–in the office, on the road, everywhere!
Do you have an iPad? Put it to work! If you're a manager, entrepreneur, or professional… a consultant, salesperson, or freelancer… this book will make you more efficient, more effective, and more successful!
Your iPad at Work includes the latest information about the new iPad (third generation) and iOS 5.1, but also applies to the original iPad and iPad 2.
It's packed with easy, nontechnical business solutions you can use right now–each presented with quick, foolproof, full-color instructions.Securely connect your iPad to your network; sync your email, contacts, calendar, Office documents, and smartphone; make the most of iPad's latest productivity apps; capture
up-to-the-minute news and financial data; even discover powerful specialized apps for your job and your industry.
You already know how much fun your iPad is, now discover how incredibly productive it can make you!
Secure your iPad with passwords and data encryption
Connect your iPad to a wireless printer
Discover today's most powerful iPad business apps
Manage contacts and relationships using your iPad and the VIPorbit app
Do your word processing, spreadsheet and database management while on the go
Access your email and surf the Web from almost anywhere
Make winning sales and business presentations from your iPad
Read PC and Mac files, from Microsoft Office to Adobe PDF
Manage your next project from your iPad
Use your iPad more efficiently on the road and while traveling
Manage your company's social networking presence from your tablet
Hold iPad-based video conferences and virtual meetings
Use your iPad as an ebook reader, and find the best new business and productivity books online
Reduce your communications costs with FaceTime and Skype
Create and distribute iPad content, or have a custom app developed for your business
Add hardware and accessories that make your iPad even more useful
Book Details
Paperback: 384 pages
Publisher: Que; 2nd Edition (May 2012)
Language: English
ISBN-10: 0789748525
ISBN-13: 978-0789748522
Download [67.0 MiB]