Plan to Turn Your Company Around in 90 Days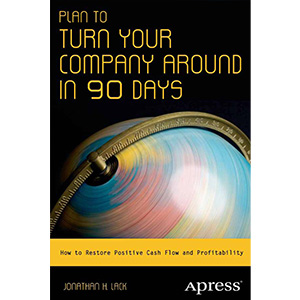 More than half of all businesses in the U.S. don't make it to their fifth birthday, and nearly 70 percent are gone by year ten. How do businesses get into trouble? A hundred different ways. Poor cash flow, undercapitalization, lax financial controls, poor worker productivity, boneheaded mistakes, inefficient processes, failure to adapt, loss of enthusiasm . . . the list goes on and on.
The fact is, many businesses that face life-threatening challenges, or are just stuck in the doldrums, can turn their fortunes around. And Jonathan Lack is the expert who can show you how. Lack is a turnaround specialist—the guy called in to reinvigorate a stalled company or revamp the poor practices that reduce sales and decimate profits. Once he's done, the company is again on the road to growth and profitability.
Plan to Turn Your Company Around in 90 Days is a pragmatic, step-by-step guide to helping your company not only survive but begin to grow again. Among other things, this book will teach you how to improve your company's cash flow, how to better manage your payroll and employee productivity, and how to get better results from your marketing and sales efforts. Turn Your Company Around in 90 Days will help you develop a framework to create a strategic plan that will move your company in the right direction and breathe new life into tired or worn-out operations and products.
Plan to Turn Your Company Around in 90 Days will immediately help your firm in the following areas:

How to get to "cash flow positive" and then grow
How to manage technology better
How to manage your payroll and employee productivity
How to improve marketing and increase sales
How to restore profitability
How to manage your board of directors and investors
If you're at all fearful that your company may not last the next couple of years, this book is for you.
What you'll learn
How to manage and preserve cash
How to reduce your expenses
How to increase your margins
How to increase employee productivity and improve operations
How to assess the strength of your products and services
How to increase sales and marketing efficiency
How to create a strategic plan to turn your company around
How to restore enthusiasm and become a desirable employer again
Who this book is for
This book is written for CEOs, CFOs, COOs, and CMOs of large companies, midcaps, and small businesses. It's also for angel investors, board directors, private equity firms, and venture capitalists. It is intended to give readers the confidence that, by developing a basic plan, they can turn their company around and give it new life.
Table of Contents
Part I: Managing and Preserving Cash Flow
Chapter 1. How to Manage Cash Flow Better
Chapter 2. How to Manage Accounts Payables Better
Chapter 3. How to Manage Accounts Receivables Better
Part II: Improving Operations Management
Chapter 4. How to Manage Employee Productivity Better
Chapter 5. How to Manage Technology, Facilities, and Manufacturing Better
Chapter 6. How to Manage Process Flows Better
Part III: Increasing Marketing and Sales Efficiency
Chapter 7. How to Understand Your Customers, Competitors, and Key Trends Better
Chapter 8. How to Develop a More Effective Marketing Strategy
Chapter 9. How to Develop a More Effective Sales Strategy
Part IV: Managing from the Top Down
Chapter 10. How to Manage Investors and the Board of Directors Better
Chapter 11. How to Hire and Manage Your Turnaround Consultant
Chapter 12. How to Manage Yourself and Your Staff Better
Appendix A. Sample Consulting Proposal
Book Details
Paperback: 224 pages
Publisher: Apress (July 2013)
Language: English
ISBN-10: 1430246685
ISBN-13: 978-1430246688
Download [5.8 MiB]