Exposure Photo Workshop, 2nd Edition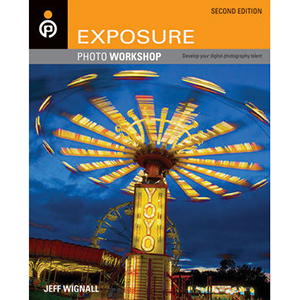 New and updated techniques for working with exposure
Exposure involves a variety of skills, but once mastered, can turn a hobbyist into a bona fide photographer. This hands-on resource dissects the components of exposure—ISO, aperture, shutter speed—and shows how they work together to capture the photographer's vision. You'll learn how to leave the safety of automatic settings and understand how controlling the settings can result in beautiful photos. Stunning photos of people, wildlife, and landscapes serve to inspire you to practice your new skills in exposure and create memorable and frame-worthy photos.
Unveils the many intricate levels of exposure and clearly explains how to master each one so that you can capture amazing photos
Encourages you to apply each of the techniques you learn with patience and experimentation when photographing people, wildlife, landscapes, or any other subject matter
Details the essentials for taking frame-worthy photos in a variety of challenges, such as action, night scenes, low light, bad weather, and more
Features updated, stunning, and inspiring full-color photos throughout
Expose yourself to the fantastic and unparalleled advice contained within the pages of Exposure Photo Workshop, Second Edition!
Table of Contents
Chapter 1. The Art of the Exposure
Chapter 2. Exposure Controls: A Primer
Chapter 3. Measuring the Light
Chapter 4. Lens Apertures and Depth of Field
Chapter 5. Shutter Speed and Subject Motion
Chapter 6. Training Wheels Off: Going Beyond the Green Mode
Chapter 7. Natural Light Exposures
Chapter 8. The Easy Way Out: Simplifying Difficult Situations
Chapter 9. Photography After Dark and in Existing Light
Chapter 10. Special Considerations: Weather and Natural Phenomena
Chapter 11. Flash Photography
Book Details
Paperback: 352 pages
Publisher: Wiley; 2nd Edition (July 2011)
Language: English
ISBN-10: 1118024540
ISBN-13: 978-1118024546
Download [175.8 MiB]