Learning to Photograph – Volume 2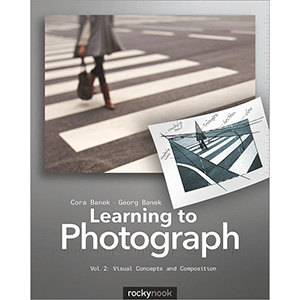 The two volumes of the Learning to Photograph series give students and interested amateur photographers essential information about technique and design as well as an understanding of the big concepts of photography. Beginning and advanced photographers alike will find the content instructive, thoroughly explained, and effectively illustrated, making this book a useful resource for readers to develop their own craft.
This second volume addresses the topics of visual design and composition. The authors describe various methods of visual design and how you can use these methods effectively. You will learn which techniques to use to design your images while at the same time training your photographic eye. You will develop the ability to support the message of your subject purposefully, hone your photographic style, and analyze your own work and the work of others competently.
The striking images and informational graphics not only illustrate the concepts at hand, but also make the lessons visually pleasing and offer useful examples for readers to mimic in their own work.
Topics include:
Visual perception
Composition, shapes, and lines
Managing light
Color and its effects
Sharpness, blur, and movement
The interplay of visual design elements
Image analysis and evaluation
The previous volume in the Learning to Photograph series addresses cameras, equipment, and basic photographic techniques.
Table of Contents
01. The Basics of Image Design
02. Composition
03. Shapes and Lines
04. Standpoint and Point of View
05. Light
06. Color and Black-and-White
07. Sharpness and Blur
08. The Overall Effect
09. Image Analysis and Evaluation
Book Details
Paperback: 256 pages
Publisher: Rocky Nook (August 2013)
Language: English
ISBN-10: 1937538214
ISBN-13: 978-1937538217
Download [111.2 MiB]