Nikon D5100: From Snapshots to Great Shots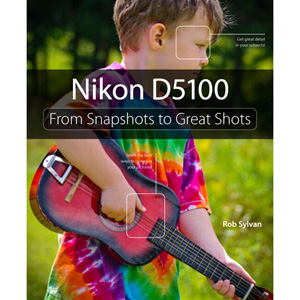 Nikon's much-anticipated D5100 camera is here. This new model replaces the popular D5000 and creates a nice bridge between the more beginner-level D3100 and the high-end D7000.
This book has one goal: to teach D5100 owners how to make great shots using their new Nikon camera. Users learn how to use the D5100 to create the type of photos that inspired them to buy the camera in the first place. Everything in the book is in service of creating a great image.
Starting with the top ten things users need to know about the camera, photographer Rob Sylvan carefully guides readers through the operating features. Owners get practical advice from a pro on which settings to use when, great shooting tips, and even end-of-chapter assignments.
Table of Contents
Chapter 1. The D5100 Top Ten List
Chapter 2. First Things First
Chapter 3. The Auto Modes
Chapter 4. The Professional Modes
Chapter 5. Moving Target
Chapter 6. Say Cheese!
Chapter 7. Landscape Photography
Chapter 8. Mood Lighting
Chapter 9. Creative Compositions
Chapter 10. Advanced Techniques
Chapter 11. Pimp My Ride
Chapter 12. D5100 Video: Beyond the Basics
Book Details
Paperback: 288 pages
Publisher: Peachpit Press (July 2011)
Language: English
ISBN-10: 0321793846
ISBN-13: 978-0321793843
Download [26.9 MiB]