Excel 2013 For Dummies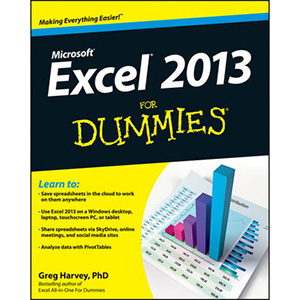 The bestselling Excel book – completely updated for Excel 2013!
As the world's leading spreadsheet application, Excel has an enormous user base. The release of Office 2013 brings major changes to Excel, so Excel For Dummies comes to the rescue once more! Featuring the friendly For Dummies style, this popular guide shows beginners how to get up and running with Excel while also helping more experienced users get comfortable with the newest features.
Walks you through the exciting new features of Excel 2013
Presents everything you need to know to perform basic Excel 2013 tasks
Covers creating and editing worksheets and charts, formatting cells, entering formulas, inserting graphs, designing database forms, and adding database records
Discusses printing, adding hyperlinks to worksheets, saving worksheets as web pages, adding existing worksheet data to an existing web page, and much more
Whether you're new to Excel or are looking to get up and running with the 2013 version, Excel 2013 For Dummies has everything you need to know!
Table of Contents
Part I: Getting Started with Excel 2013
Chapter 1. The Excel 2013 User Experience
Chapter 2. Creating a Spreadsheet from Scratch
Part II: Editing without Tears
Chapter 3. Making It All Look Pretty
Chapter 4. Going Through Changes
Chapter 5. Printing the Masterpiece
Part III: Getting Organized and Staying That Way
Chapter 6. Maintaining the Worksheet
Chapter 7. Maintaining Multiple Worksheets
Part IV: Digging Data Analysis
Chapter 8. Doing What-If Analysis
Chapter 9. Playing with Pivot Tables
Part V: Life beyond the Spreadsheet
Chapter 10. Charming Charts and Gorgeous Graphics
Chapter 11. Getting on the Data List
Chapter 12. Linking, Automating, and Sharing Spreadsheets
Part VI: The Part of Tens
Chapter 13. Top Ten Beginner Basics
Chapter 14. The Ten Commandments of Excel 2013
Book Details
Paperback: 408 pages
Publisher: For Dummies (January 2013)
Language: English
ISBN-10: 1118510127
ISBN-13: 978-1118510124
Download [22.7 MiB]