Microsoft Forefront Identity Manager 2010 R2 Handbook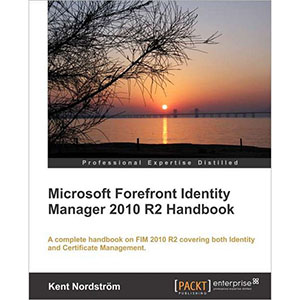 Microsoft's Forefront Identity Manager simplifies enterprise identity management for end users by automating admin tasks and integrating the infrastructure of an enterprise with strong authentication systems.
The "Microsoft Forefront Identity Manager 2010 R2 Handbook" is an in-depth guide to Identity Management. You will learn how to manage users and groups and implement self-service parts. This book also covers basic Certificate Management and troubleshooting.
Throughout the book we will follow a fictional case study. You will see how to implement IM and also set up Smart Card logon for strong administrative accounts within Active Directory. You will learn to implement all the features of FIM 2010 R2. You will see how to install a complete FIM 2010 R2 infrastructure including both test and production environment. You will be introduced to Self-Service management of both users and groups. FIM Reports to audit the identity management lifecycle are also discussed in detail.
With the "Microsoft Forefront Identity Manager 2010 R2 Handbook" you will be able implement and manage FIM 2010 R2 almost effortlessly.
What you will learn from this book
Prerequisites for installing FIM 2010 R2
How to install and scale the solution
Implementation of User Management including Self-Service
Implementation of Group Management including Self-Service
Configuration of the Self-Service Password Reset feature
Getting Reports from FIM
Issuing Smart Cards using FIM Certificate Management
Troubleshooting FIM 2010 R2
Approach
Throughout the book, we will follow a fictional company, the case study will help you in implementing FIM 2010 R2. All the examples in the book will relate to this fictive company and you will be taken from design, to installation, to configuration of FIM 2010 R2.
Who this book is written for
If you are implementing and managing FIM 2010 R2 in your business, then this book is for you. You will need to have a basic understanding of Microsoft based infrastructure using Active Directory. If you are new to Forefront Identity Management, the case-study approach of this book will help you to understand the concepts and implement them.
Book Details
Paperback: 446 pages
Publisher: Packt Publishing (August 2012)
Language: English
ISBN-10: 1849685363
ISBN-13: 978-1849685368
Download [53.8 MiB]