Content Everywhere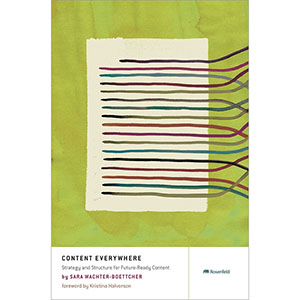 Care about content? Better copy isn't enough. As devices and channels multiply—and as users expect to easily relate, share, and shift information—we need content that can go more places, more easily.
This book will help you stop creating fixed, single-purpose content and start making it more future-ready, flexible, and reusable by showing you how to:
Identify content's micro elements
Structure it in meaningful ways
Bring it to life through metadata and markup
This gives us content that's findable, adaptable, connectable, and transportable—allowing us to better manage it, and retain its meaning, in an unfixed web.
Table of Contents
Part One: The Case for Content Everywhere
Chapter 1. Framing the New Content Challenge
Chapter 2. Building a Way Forward
Part Two: The Elements of Content
Chapter 3. Breaking Content Down
Chapter 4. Creating Content Models
Chapter 5. Designing Content Systems
Chapter 6. Understanding Markup
Chapter 7. Making Sense of Content APIs
Part Three: Putting Structured Content to Work
Chapter 8. Findable Content
Chapter 9. Adaptable Content
Chapter 10. Reusable Content
Chapter 11. Transportable Content
Part Four: Enduring Content
Chapter 12. Content and Change
Chapter 13. Towards a New (Information) Architecture
Book Details
Paperback: 240 pages
Publisher: Rosenfeld Media (December 2012)
Language: English
ISBN-10: 193382087X
ISBN-13: 978-1933820873
Download [15.4 MiB]