Take Control of Apple Mail in Lion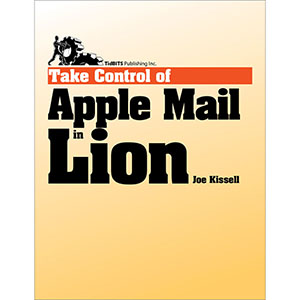 This book will teach you to:
Comprehend account options: You'll come to understand the difference between POP and IMAP, plus learn about special aspects of iCloud, Exchange, and Gmail accounts. You'll discover how to integrate all these types of accounts, and more, into your overall Mail setup, as well as learn how you can manage Gmail's labels in an IMAP environment.
Read: We know you know how to read, but you'll learn efficient ways to quickly open, read, process, and file your messages. You'll see how best to use Lion's three-pane display layout (or turn it off if you prefer), and how to follow email threads and conversations. You'll also get tips for handling incoming attachments, flagging messages, avoiding spam, and using Mail's built-in RSS feed reader.
Write and send: You'll learn different methods for quickly addressing your email, how to take control of the From, To, Cc, and Bcc lines, and how to create multiple signatures. You'll also find out about how to address a single message to a group of recipients, and how to decide whether you should use digital signatures or encryption, plus what to do when you want to send a digitally signed or encrypted message. Also, you'll find out how to format an email message–and why you might not want to, plus learn how to include URLs, add attachments, and include quoted text from other messages.
Find your stuff: You'll find advice on how to organize Mail's sidebar, Favorites bar, and your various mailboxes so you can easily locate messages using a variety of techniques–including search tokens and Boolean expressions. Joe covers simple features, such as making a new mailbox or rearranging your mailboxes, as well as advanced techniques, such as creating rules and smart mailboxes.
Use Notes: Mail has a Notes feature for leaving yourself reminders. Learn the strengths and limitations of Notes, and make it work for you.
Unravel Mail mysteries: Understand the sometimes-present Outbox, sort out the Dock unread count, learn why smart addresses can be stupid, avoid "unsafe" addresses, manage the Previous Recipients list, wrangle attachments, find your notes, and determine why certain mailboxes appear in particular categories on Mail's sidebar.
Avoid and fix problems: Get advice on how to back up your email, and find out how to restore it from a backup. Also read the dozen pages of hard-won troubleshooting advice with tips on managing a misbehaving mailbox, fixing sending problems and delays, fixing connection errors, and more.
Book Details
Paperback: 147 pages
Publisher: TidBITS Publishing, Inc. (June 2012)
Language: English
ISBN-10: 1615424075
ISBN-13: 978-1615424078
Download [3.6 MiB]