iPad: The Missing Manual, 4th Edition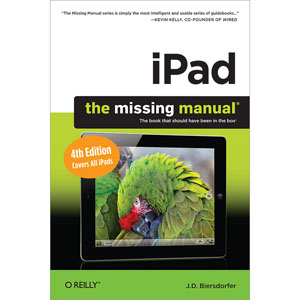 Apple's third-generation iPad has a new, razor-sharp Retina display and a robust processor that will dazzle you with their looks and speed, but you won't get far without an owner's manual to all the tablet's features. This comprehensive guide shows you how to transfer media to your iPad, sync and shop wirelessly, tap into WiFi and 4G cellular networks, and use iTunes for media management.
The important stuff you need to know:
Build your media library. Fill your iPad with music, photos, movies, TV shows, games, eBooks, and more.
Sync wirelessly. Keep your iPad's apps, media, and email messages current without cabling up.
Capture stunning images. Take photos and HD video with the tablet's new 5 megapixel iSight camera.
Get online. Connect via WiFi or the blazing-fast 4G LTE cellular network—and create a free Wi-Fi hotspot with Verizon's iPad.
Take dictation. "Speak" email messages and notes, and have the iPad type them up.
Table of Contents
Chapter 1. Set Up Your iPad
Chapter 2. Tour Your iPad
Chapter 3. Interact with Your iPad
Chapter 4. Get Online
Chapter 5. Surf the Web
Chapter 6. Keep in Touch with Email and Messaging
Chapter 7. Organize Your Life with the iPad's Apps
Chapter 8. Shop the App Store
Chapter 9. Read iBooks and ePeriodicals
Chapter 10. Play Games
Chapter 11. Get Productive with iWork
Chapter 12. Sync and Share Media Files Using iTunes and iCloud
Chapter 13. Master iTunes On the Desktop
Chapter 14. Manage and Play Music and Other Audio
Chapter 15. Watch, Make, and Edit Videos
Chapter 16. View, Shoot, Edit, and Manage Photos
Chapter 17. Back Up and Sync Your Gadgets with iCloud
Book Details
Paperback: 368 pages
Publisher: O'Reilly Media; 4th Edition (April 2012)
Language: English
ISBN-10: 1449316182
ISBN-13: 978-1449316181
Download [74.3 MiB]