Take Control of Screen Sharing in Lion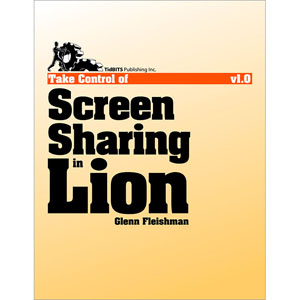 What hardware and software does this ebook discuss?
This ebook is about screen sharing between two Macs running Mac OS X 10.7 Lion, but it is also your go-to ebook about screen sharing with 10.6 Snow Leopard and 10.5 Leopard. For the iOS apps covered, you should be running iOS 3 or later.
You'll learn how to:
Set up your Mac so that it can be controlled from your iPhone.
Start using screen sharing to help your confused uncle with his Mac.
Find and launch the built-in Screen Sharing application on your Mac.
Control an unattended Mac from far away.
Turn on Back to My Mac with MobileMe or iCloud.
Get set up and begin to share your screen through Skype.
Give a presentation to a remote location through iChat Theater.
Wake up a remote Mac in order to control it through screen sharing.
Copy text from one computer to another while sharing screens.
Put a shared screen in its own Full-Screen display in Lion.
Control a far-away Mac through screen sharing when another user is logged in to that same Mac with a different account.
Table of Contents
Read Me First
Introduction
Quick Start to Screen Sharing
What's New in Lion
Learn the Basics of Screen Sharing
Share via iChat
Prepare to Share
Share via Bonjour
Share via a Direct Network Connection
Share via Back to My Mac
Share via Skype
Sharing Screens in iOS
Troubleshooting
About This Book
Copyright and Fine Print Featured Titles
Book Details
Paperback: 103 pages
Publisher: TidBITS Publishing, Inc. (February 2012)
Language: English
ISBN-10: 1615423966
ISBN-13:  978-1615423965
Download [4.8 MiB]