Arduino Projects to Save the World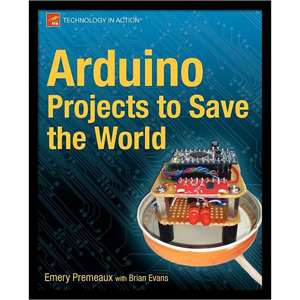 Arduino Projects to Save the World shows that it takes little more than a few tools, a few wires and sensors, an Arduino board, and a bit of gumption to build devices that lower energy bills, help you grow our own food, monitor pollution in the air and in the ground, even warn you about earth tremors.
Arduino Projects to Save the World introduces the types of sensors needed to collect environmental data—from temperature sensors to motion sensors. You'll see projects that deal with energy sources—from building your own power strip to running your Arduino board on solar panels so you can actually proceed to build systems that help, for example, to lower your energy bills. Once you have some data, it's time to put it to good use by publishing it online as you collect it; this book shows you how.
The core of this book deals with the Arduino projects themselves:
Account for heat loss using a heat loss temperature sensor array that sends probes into every corner of your house for maximum measurement.
Monitor local seismic activity with your own seismic monitor.
Keep your Arduino devices alive in the field with a solar powered device that uses a smart, power-saving design.
Monitor your data and devices with a wireless radio device; place your sensors where you like without worrying about wires.
Keep an eye on your power consumption with a sophisticated power monitor that records its data wherever you like.
Arduino Projects to Save the World teaches the aspiring green systems expert to build environmentally-sound, home-based Arduino devices. Saving the world, one Arduino at a time.
What you'll learn
Help the environment by using Arduino
Install and use environmental sensors
Use low-energy or solar energy sources for your Arduino board to avoid loading conventional energy grids
Build an Arduino-based seismic monitor to protect your home
Measure energy flows inside your home using temperature sensor arrays
Pull together your environmental data in an energy consumption monitor
Who this book is for
Programmers excited by Arduino
Arduino users looking for green projects
Embedded systems engineers interested in Arduino
Table of Contents
Saving the World: One Sensor at a Time
Spider Temps: A Temperature Measurement Tool with Six Legs
Jungle Power: Keeping an Arduino Alive on Solar, Batteries, and Super Capacitors
Tele-sensation: Wireless Communication for Long-Distance Measurement
Contributing to the Hive Mind: Submitting Your Data to Pachube
The Mass Effect: Measuring Traffic and Earthquakes with This Seismometer
The Tempest Probe: A Weather Station Need Not Be Stationary
Radiation: McGeiger has your back
Meter Beater: Manage Your Electrical Energy Usage with this Current Monitor and Switch
Book Details
Paperback: 256 pages
Publisher: Apress (December 2011)
Language: English
ISBN-10: 143023623X
ISBN-13: 978-1430236238
Download [30.3 MiB]