iPhone 5 All-in-One For Dummies, 2nd Edition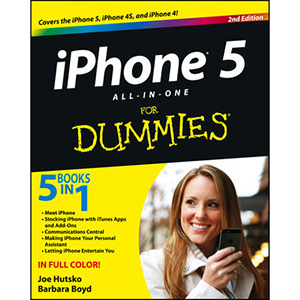 Outsmart the smartest smartphone around: the iPhone 5!
If you want to rock the hottest smartphone in town, get this great guide and find out how to get the very most out of the incredible iPhone. Five, full-color minibooks cover everything you want to know: iPhone basics, how to load your phone with add-ons and amazing apps, using the Siri Personal Assistant to keep your life on track, letting iPhone entertain you, and much more. It's over 600 pages packed with the latest on the latest, including iOS 6. Find a wealth of great ways to use your iPhone at home, at work, or on the go with this fun and easy guide.
Covers the iPhone 5, iPhone 4S, and iPhone 4
Five minibooks: Meet the iPhone, Stocking the iPhone with iTunes Apps and Add-Ons, Communications Central, Making Your iPhone Your Personal Assistant, and Letting iPhone Entertain You, walk you through all aspects of using your iPhone
Gets you up to speed with the latest iPhone features and functions including the iOS 6 update
Explains how to make phone and FaceTime video calls; exchange e-mails, text and multimedia messages; surf the web; buy apps; shoot and share videos; use Maps to get from Point A to Point B; and much more
Shares valuable tips on troubleshooting, syncing your device with iCloud, connecting on the go, and keeping your iPhone happy
Whether you're an iPhone newbie or already a savvy smartphone star, you'll find something you can use in iPhone 5 All-in-One For Dummies, 2nd Edition.
Table of Contents
Book I: Meet iPhone
Chapter 1. Exploring the Many Faces of iPhone
Chapter 2. Activating and Understanding Your iPhone
Chapter 3. Controlling the Multitouch and Voice Recognition Interfaces
Chapter 4. Touring iPhone's Preloaded Apps and Settings
Chapter 5. Anticipating and Tackling iPhone Troubles
Book II: Stocking iPhone with iTunes Apps and Add-ons
Chapter 1. Syncing and Backing Up Your iPhone
Chapter 2. Apps 411. Browsing, Installing, and Managing Apps
Chapter 3. Enhancing and Protecting iPhone with Add-ons
Book III: Communications Central. Calls, Messages, and the Web
Chapter 1. Managing Phone and FaceTime Video Calls
Chapter 2. Sending and Receiving Text and Multimedia Messages
Chapter 3. Surfing the Web with Safari
Chapter 4. E-mailing Every Which Way You Can
Book IV: Making iPhone Your Personal Assistant
Chapter 1. Perfecting Your People Skills with Contacts
Chapter 2. Managing Your Time with Calendar, Reminders, and Clock
Chapter 3. Tapping into Maps, Compass, Passbook, Weather, Calculator, and Stocks
Chapter 4. Creating and Sharing Notes and Voice Memos
Book V: Letting iPhone Entertain You. Photos, Video, Music, and More
Chapter 1. Capturing and Sharing Photos and Videos with Camera
Chapter 2. Acquiring and Browsing Music, Videos, Movies, and More
Chapter 3. Listening to Music and Audio
Chapter 4. Watching Videos and iTunes U
Bonus Chapters: Apps for Every Type of Task
Bonus Chapter 1. Getting Things Done for Everyone
Bonus Chapter 2. The (More) Serious Business Partner
Bonus Chapter 3. Improving Communication and Social Networking
Bonus Chapter 4. Getting Creative
Bonus Chapter 5. The Well-Informed Reader and Listener
Bonus Chapter 6. Maximizing Leisure, Health, Home, and Travel
Book Details
Paperback: 544 pages
Publisher: For Dummies; 2nd Edition (January 2013)
Language: English
ISBN-10: 1118407946
ISBN-13: 978-1118407943
Download [116.4 MiB]