Apple Training Series: GarageBand '11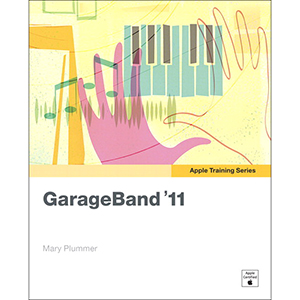 This ebook comprises the entire GarageBand section of Apple Training Series: iLife '11 and provides you with practical techniques you will use on a daily basis to add professional-quality music to your projects.
Whether you're a seasoned composer or have never written a piece of music before, you'll learn how to use GarageBand for a variety of real-world scenarios, including recording, arranging, and mixing music. You'll explore the new Flex Time and Groove Matching features and get a chance to work with the Learn to Play lessons and perform with virtual musicians onstage with Magic GarageBand Jam. You'll also work with Real Instruments, MIDI Software Instruments, and prerecorded Apple Loops to edit music and add effects that sweeten your finished projects.
Finally, you'll prepare your projects for iTunes and explore sharing your finished projects in other iLife applications.
Table of Contents
Lesson 1. Learning to Play Music with GarageBand
Lesson 2. Jamming and Creating Music with GarageBand
Lesson 3. Recording Music in GarageBand
Lesson 4. Fixing, Arranging, and Mixing Music in GarageBand
Lesson 5. Finishing and Sharing Projects

Book Details
Paperback: 184 pages
Publisher: Peachpit Press (January 2012)
Language: English
ISBN-10: 0132697637
ISBN-13: 978-0132697637
Download [16.7 MiB]