Take Control of Apple TV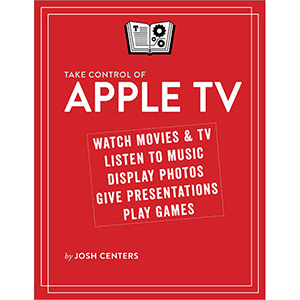 Everything you need to know about the Apple TV!
The Apple TV may be the smallest component of a home entertainment system, but its size is in stark contrast to the vast quantity of content that it can bring to life through your television. With it, you can consider cutting the cord to your cable company — and ditching that expensive monthly bill! And with the advice in Take Control of Apple TV, you can go far beyond watching movies and TV shows to make the Apple TV into the hub of your stereo system, display gorgeous slideshows of your photos, and play iPhone and iPad games on the big screen.
Written by TidBITS managing editor Josh Centers, the ebook walks new owners through setup, and then dives into explaining how to best control the Apple TV with the included remote, Apple's Remote app, or another TV remote. You'll learn to customize the icon grid on the main screen, enable parental controls, and make your screen saver look awesome. Josh also covers uses of AirPlay, the Apple technology that lets you beam audio and video from an iPhone, iPad, or Mac to the Apple TV, and lets the Apple TV send audio to compatible speakers anywhere in your home.
When it comes to content, you'll tour the Apple TV's built-in video apps — iTunes Store, Netflix, Hulu, HBO Go, PBS, YouTube, and more — plus get ideas for which are likely to offer what you want to watch. But you're not restricted to commercial video — Josh explains how you can best view home movies and any DVDs or Blu-ray discs you own, listen to your music or iTunes Radio, use Home Sharing to display your photos via the Apple TV, and discover iOS games designed for playing via the Apple TV. If you're feeling geeky, you can read about how to make Plex bring in even more video content, including free access to Comedy Central's The Daily Show and The Colbert Report.
Finally, the Apple TV isn't just about entertainment. Thanks to AirPlay, it makes a great device for giving presentations from a Mac, iPhone, or iPad using Keynote; it's the perfect accompaniment for a road warrior heading into unfamiliar conference rooms. Josh gives you all the details, including a list of what you'll need to handle any hardware you may encounter.
In Take Control of Apple TV you'll read about:
The one-button press for jumping immediately to the main menu
Hiding unwanted Apple TV apps that clutter your main screen
Must-know video navigation tricks (also in the free Apple TV Cheat Sheet)
Enabling subtitles for foreign-language films or for the deaf or hard of hearing
Which is better, Netflix or Hulu?
Navigating with audio VoiceOver
Playing music from the Apple TV on every speaker in the house
The obscure way to transfer photos from a computer to the Apple TV
Two ways to show home movies on your TV screen
Using your TV screen as a second monitor for your Mac
Essential items to pack if you'll be giving a presentation via an Apple TV
What you can do with Conference Room Display mode
Improving AirPlay performance when playing games
Setting up an Elgato EyeTV HD to record live TV for the Apple TV
Book Details
Paperback: 197 pages
Publisher: TidBITS Publishing, Inc. (February 2014)
Language: English
ISBN-10: 161542430X
ISBN-13: 978-1615424306
Download [28.1 MiB]