iPad 2: The Missing Manual, 3rd Edition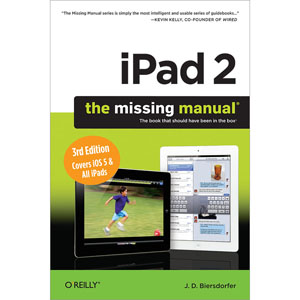 With iOS 5, Apple added more than 200 new features to the iPad 2, but there's still no printed guide to using all its amazing capabilities. That's where this full-color Missing Manual comes in. You'll learn how to stuff your iPad with media, organize your personal life, wirelessly stream content to and from your tablet, stay connected to friends, and much more.
The important stuff you need to know:
Build your media library. Fill your iPad with music, movies, TV shows, eBooks, eMagazines, photos, and more.
Go wireless. Sync content between your computer and iPad—no wires needed.
Get online. Connect through WiFi or Wi-Fi + 3G, and surf the Web using the iPad's new tabbed browser.
Consolidate email. Read and send messages from any of your email accounts.
Get social. Use built-in apps like iMessage, Twitter, and Ping to stay in touch.
Store stuff in iCloud. Stash your content online for free, and sync up all your devices automatically.
Interact with your iPad. Learn new finger moves and undocumented tips, tricks, and shortcuts.
Table of Contents
Chapter 1. Get to Know Your iPad
Chapter 2. Interact with Your iPad
Chapter 3. Get Online
Chapter 4. Surf the Web
Chapter 5. Keep in Touch with Email
Chapter 6. Use the iPad's Built-In Apps
Chapter 7. Shop the App Store
Chapter 8. Read iBooks and ePeriodicals
Chapter 9. Play Games
Chapter 10. Get Productive with iWork
Chapter 11. Sync and Share Media Files Using iTunes and iCloud
Chapter 12. Master iTunes
Chapter 13. Play Music and Other Audio
Chapter 14. Watch and Edit Videos
Chapter 15. View, Edit, and Manage Photos
Chapter 16. Back Up and Sync Your Gadgets with iCloud
Appendix. iPad Settings
Appendix. iPad Troubleshooting and Care
Book Details
Paperback: 360 pages
Publisher: O'Reilly Media / Pogue Press; 3rd Edition (November 2011)
Language: English
ISBN-10: 1449316166
ISBN-13: 978-1449316167
Download [67.1 MiB]