World of Warcraft Gold Strategy Guide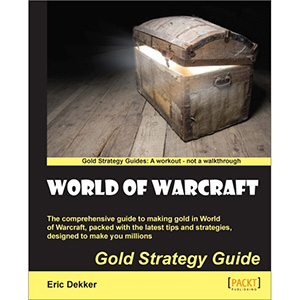 World of Warcraft provides an immersive gaming experience with an exciting new world to explore. In this world (of Warcraft), players use gold to improve their characters and buy exciting items such as armor, vanity items, pets, mounts, and so much more. WoW gold not only helps with levelling up, but also helps the player gain respect in the WoW community.
"World of Warcraft Gold Strategy Guide" will show you the most effective ways to make gold in World of Warcraft. It includes detailed examples and instructions that will set you up to efficiently make plentiful amounts of gold both now and in future expansions.
"World of Warcraft Gold Strategy Guide" will arm you with all the latest strategies to become a World of Warcraft gold tycoon.
Start by setting up your accounts for optimal gold making and progress through to advanced market techniques. You will learn to maintain thousands of auctions per day, master add-ons to reduce time spent making gold and increase time spent playing, and set yourself up to obtain anything you want in game.
The World of Warcraft Gold Strategy Guide teaches readers how to go from rags to riches.
What you will learn from this book
Create banking characters to manage your gold and inventory
Setup add-ons like TradeSkillMaster
Make gold using every profession in the game
Trade across factions
Profit from patch and expansion changes
Earn gold in everything you do in-game
Approach
Rich with examples, detailed breakdowns, and step-by-step instructions, this book gets down to the nuts and bolts of gold making, to help you become a World of Warcraft gold tycoon.
Who this book is for
This book is for every World of Warcraft player who's tired of scrapping for gold or has ever wanted to be the one showing off expensive items in town.
Book Details
Paperback: 196 pages
Publisher: Packt Publishing (May 2013)
Language: English
ISBN-10: 1849693625
ISBN-13: 978-1849693622
Download [22.0 MiB]