Winning with ETF Strategies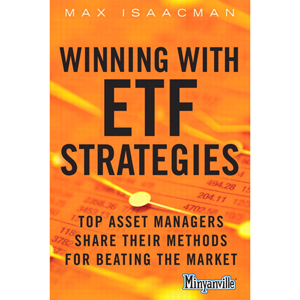 Today, using the right ETF strategies, you can pursue virtually any investing objective, and achieve your goals in any market: sideways, bear, or bull. In Winning with ETF Strategies, 23 of the field's most respected and innovative money managers reveal their current strategies and methods, and show you how to select and apply the right approaches for your needs. The ETF money managers presented here have been featured in leading media including CNBC, Fox Business, Bloomberg, Barron's, The Wall Street Journal, and Research Magazine's ETF Advisor Hall of Fame.
In this book, Max Isaacman clearly explain how ETFs can help you: gain access to precious metals and other non-market asset classes; profit in unsettled markets and prepare for the next bull market; shift portfolio exposure to the sectors, regions, and asset classes most likely to earn profits; allocate your assets more flexibly and precisely; uncover value opportunities in areas that have underperformed; provide tactical opportunities to generate absolute return; strengthen risk management, and much more.
For all individual investors, ETF investors, hedge fund managers, money managers, and brokers.
From the Back Cover
"ETFs permit investors to zero in on groups and concepts, without having to find, select, and manage the 30 or 40 stocks associated with them. Isaacman spells out the ETF strategies for investors looking to invest in specific types of stocks, without the full-time job of finding, selecting, and managing them. Isaacman's ETF approach and strategies give investors the ability to 'play' the market from the top by picking tradable ETFs and having fund managers do the day-to-day work. A coach's playbook for ETFs: You decide the plan, and the funds execute the plays."
—Howard Silverblatt, Senior Index Analyst, Standard & Poor's Indices
"As Chief Executive of an investment firm dealing in China and Asian emerging markets, I know it is valuable to have portfolios diversified outside of the United States. Although the United States is and will continue to be important, our clients need and demand global participation in their investing and trading needs. ETFs fill the need of having global exposure without having to spend time and resources researching individual companies. We find our services are more valuable teaching our clients how to use ETFs in their investing activities."
—Robert Angle, President, White Pacific Securities
Winning ETF Strategies from the World's Best ETF Investment Managers
New ways to profit in unsettled markets, uncover hidden opportunities, and access non-market asset classes
Build absolute return and mitigate risk
Discover ETFs designed to outperform the market, not just mirror it
For all individual investors, brokers, money managers, and hedge fund managers
Using today's newest Exchange Traded Funds (ETFs) investing strategies, you can earn higher returns, reduce your risks, manage sideways or downtrending markets, diversify into new asset classes and emerging economies, and achieve investing goals that are difficult to reach any other way. Now, for the first time, more than 20 of the world's leading ETF investors share their best techniques and hottest ETF picks. You've seen them on CNBC, Fox Business, and Bloomberg, read their insights in Barron's and The Wall Street Journal, and heard them praised far and wide. Now, you can put their extraordinary ETF investing knowledge to work for you!
Book Details
Hardcover: 224 pages
Publisher: FT Press (March 2012)
Language: English
ISBN-10: 0132849186
ISBN-13: 978-0132849180
Download [5.6 MiB]