Unite the Tribes, 2nd Edition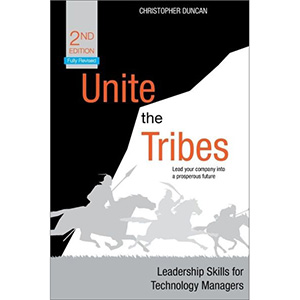 Every day, customers see the results of companies where fiefdoms have formed and silos create divisional or departmental strife: poor sales and profits, and lackluster products. It's not hard to see that such companies are headed for an early grave.
Regardless of the manner in which company fractures manifest themselves, tech leaders must find a way to rid their workplaces of the divisions that threaten to undermine their company's productivity, profits, and survival. That's why, in Unite the Tribes: Leadership Skills for Technology Managers, Christopher Duncan, bestselling author of The Career Programmer, provides corporate leaders with a ten-point plan for joining their company's divided ranks together in a way that helps employees achieve their goals while also accomplishing those of the company.
Using the metaphors of the company as empire and the groups that form within companies as tribes, Duncan explains that the formation of tribes within an empire is unavoidable. After all, regardless of the situation in which they find themselves, human beings are social creatures who align themselves with those whose goals and motivations match their own. That's why the accountants hang together in the break room, while developers talk shop and geek culture in a watering hole down the street. Yet the job of leaders is to build a cohesive, powerful, and enduring empire by bringing all groups together in service to a shared, inspiring mission. And that goes double for tech companies, where breakthroughs create new landscapes on a daily basis. In Unite the Tribes, you will learn:
How to build alliances and a spirit of unity across all levels of the  company to achieve higher employee morale, greater profits, and increased productivity.
How to come up with strategies that win market share as well as the hearts and minds of your employees. How to manage conflict.
Why self-interest rules the day and how knowing another's wants and needs helps you achieve goals of your own.
Unite the Tribes will show you, the visionary leader, how to establish an empire by convincing your tribes of a simple but crucial truth: Alone, you are weak and vulnerable. United, you are invincible.
What you'll learn
Readers of Unite the Tribes will learn:
Practical, down-to-earth approaches to problem solving and productivity that make sense to corporate leaders who have to do real work in the real world.
How to arrive at a plan for uniting the disparate groups that operate within their company when faced with the daily reality of office politics, maneuvering, ambition, incompetence, and short-term thinking.
How to convey the company's purpose to employees in a way that is realistic and meaningful so that all workers can contribute to the company's greater good.
Who this book is for
Those serving in leadership or managerial capacities (i.e., those overseeing one or more employees) at technology companies plagued with division and dysfunction will find the solutions they need to rally their employees to join forces in Unite the Tribes. In addition, leaders and managers of companies whose cohesion is still healthy yet is being threatened with fracture will be provided with real-world strategies for reinforcing the glue that holds their company together in this practical, applications-driven guide.
Table of Contents
Chapter 1. The Myth of Absolute Power
Chapter 2. Building the Future
Chapter 3. Create an Invincible Empire
Chapter 4. Vision
Chapter 5. Leadership
Chapter 6. Organization
Chapter 7. Mobility
Chapter 8. Competitiveness
Chapter 9. Persuasion
Chapter 10. Strategy
Chapter 11. Brilliance
Chapter 12. Morale
Chapter 13. Unite!
Book Details
Paperback: 244 pages
Publisher: Apress; 2nd Edition (September 2013)
Language: English
ISBN-10: 1430258721
ISBN-13: 978-1430258728
Download [2.2 MiB]