Facebook Me!, 2nd Edition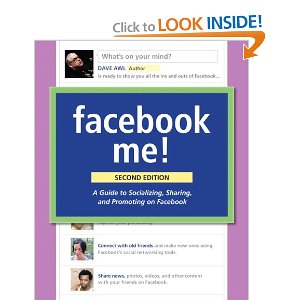 With more than 500 million active users around the world and still growing steadily, Facebook is more than just another social media site. In the words of author Dave Awl, Facebook is "the new town square"—the place where people gather to discuss the news of the day as well as share what's going on in their lives. And Facebook can actually be a useful business tool as well as a great way to promote creative projects.
So what's new in the second edition of Facebook Me? Facebook has changed dramatically since the book was first published, and this newly revised and expanded edition will bring readers up to speed on all the new features and interface elements that have been added and revamped in the time since. It addresses the ongoing controversies about Facebook's privacy policies, with detailed coverage of Facebook's privacy settings and advice for keeping your Facebook experience as secure as possible; as well as expanded info on Facebook's sharing tools and how to control who sees what.
It includes a brand-new chapter called Advertising and Promoting on Facebook that shows you how to apply the principles of social media marketing specifically to Facebook's user culture, in order to maximize the "ripple effect" of Facebook's news feed to win new fans and customers and build stronger bonds with existing ones. Plus there's an expanded chapter on "Facebook at Work"—how to keep your profile professional, avoid getting in trouble, and use Facebook for job hunting. And in the etiquette department, this edition features new guidance on how to deal with conflict and avoid flame wars between Facebook friends.
All in all, Facebook Me! takes you on a guided tour of everything Facebook has to offer and shows you how to get the most out of the time you spend there, while helping you avoid some of its pitfalls!
Find out what you can do on Facebook, and what it can do for you.
Reconnect with old friends and make new ones, let your friends know what you're up to, and share photos or video—all while protecting your privacy.
Learn Facebook etiquette: how and why to friend someone, how to socialize politely, whether you should friend your boss—and how to keep your profile looking professional if you do.
Publicize your projects, business, or causes: Post to your Wall, set up a Page, organize a Group, or invite friends to Events. Discover how to use Facebook's News Feed to connect with an audience that reaches far beyond the boundaries of your own friends list.
Look for the Facebook Me! page on Facebook to connect with the author and other readers of this book!
Book Details
Paperback: 240 pages
Publisher: Peachpit Press; 2nd Edition (December 2010)
Language: English
ISBN-10: 0321743733
ISBN-13: 978-0321743732
Download [26.5 MiB]