Mobile Marketing For Dummies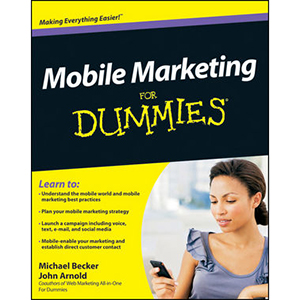 Straightforward advice on building and launching a mobile marketing plan
Mobile communication is hot, and so is marketing on mobile devices. Mobile Marketing For Dummies provides a clear and easy path for creating, launching, and making the most of a mobile marketing program. Designed for marketing professionals and other business people who may have little experience with the medium, it explains mobile marketing and how to convert a traditional marketing plan to mobile. Topics include assembling resources and budget, creating a plan, following best practices, building mobile sites, and much more.
Explains what mobile marketing is, how you can adapt a traditional marketing plan for mobile, and how to create and launch a mobile marketing plan from scratch
Covers activating a plan using voice, text, e-mail, and social media campaigns
Explores the nuts and bolts of building mobile sites, apps, monetizing mobile, and advertising on other mobile properties
Mobile Marketing For Dummies gives you the tools to succeed in this exciting environment.
From the Back Cover
With mobile, you can put your marketing message right into your prospect's hands
Marvelous mobile — perhaps the most personal and targeted marketing channel ever! You want to be sure your business is promoted on mobile devices, and this book gets you going in more ways than one. Discover the opportunities, learn the strategies, and find out how to deliver your message to your prospects, wherever they may be!
This thing called mobile — find out where mobile fits into your marketing plan and how to comply with the laws and regulations
Strategically speaking — develop a strategy and select partners to help you carry it out
In a word — build a solid foundation for sending text and multimedia messages and learn to design e-mails for mobile screens
What a site — get the scoop on building effective Web sites for mobile devices
Mobile moneymaker — generate income with mobile apps and advertising
Talk to them — enable marketing campaigns that take advantage of the mobile phone's most used yet most overlooked feature: voice
Buy and buy — learn to enable monetary transactions via mobile devices
Track your success — use mobile marketing analytics to see if your strategy is working
Open the book and find:
Five elements of mobile marketing
Valuable tips on how to engage your customers
How to map out your mobile marketing strategy
What a short code is and when you need one
Marketing advantages of mobile apps
How to take advantage of mobile social media
What you need to know to evaluate ROI
Ten mobile marketing resource centers
Learn to:
Understand the mobile world and mobile marketing best practices
Plan your mobile marketing strategy
Launch a campaign including voice, text, e-mail, and social media
Mobile-enable your marketing and establish direct customer contact
Book Details
Paperback: 384 pages
Publisher: For Dummies (September 2010)
Language: English
ISBN-10: 0470616687
ISBN-13: 978-0470616680
Download [3.1 MiB]