The Copywriting Scorecard for Bloggers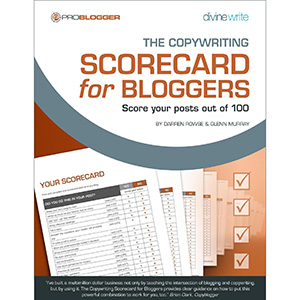 A System to Measure the Success of Your Next Post
'The Copywriting Scorecard for Bloggers' will do just that for you – it's a system that will allow you to objectively measure the quality of your next blog post – from both the reader's and Google's perspective.
'The Copywriting Scorecard for Bloggers' is a downloadable eBook providing a list of recommendations to follow, as well as pitfalls to avoid, as you write that next blog post. It's a checklist of things that are common in most great copywriting and mistakes that are commonly found in ineffective copy.
All up, there are 63 things to consider, all comprehensively explained and divided into these four easy to read sections:
Writing — How to write engaging compelling posts.
Scannability — How to ensure your posts are easy to scan read.
Search engine optimization (SEO) — How to write posts that Google will like.
Grammar — How to avoid errors that undermine your credibility.
Then, once you've read the recommendations, simply print out a scorecard, check how many recommendations you've incorporated into your post, then add up your score for a total out of 100. The higher your score, the more effective your post is likely to be (I scored 91/100 on this post).
You'll quickly identify things you can improve to help your post reach its full potential – all before hitting Publish
Working through the elements on the Scorecard, you'll end up with a score for each post and will identify areas in which you can improve it and help it reach its potential – all before hitting Publish.
What Does Copywriting have to with Blogging?
Bloggers come to ProBlogger with many questions. Some of the more common ones include:
How do I get more readers to my blog?
How do I become more authoritative in my niche?
How do I make my blog profitable?
While all of these questions are important – a cornerstone of blogging that helps step you closer to achieving results in all of these areas is your blog's content.
Without useful, easy to read, engaging and professionally written content – you'll be no closer to achieving your blogs goals – whether they be to build a personal brand, to sell your products, to make money through advertising, or to build authority and trust with readers.
The content in your blog posts is a cornerstone of your blog, and it's important to invest time and energy into honing it to reach its potential.
Developed by blogger Darren Rowse (ProBlogger) and specialist SEO copywriter Glenn Murray (Divine Write) – The Copywriting Scorecard for Bloggers will help you take your blogging to new heights.
More than a Checklist – Solid Teaching Too!
The Copywriting Scorecard for Bloggers is much more than simply a checklist. In addition to an actual scorecard (actually you get 2 versions of it – one to print out and another that you can use to rate posts from within the pdf) this PDF resource includes solid practical teaching on different elements of writing blog posts.
The Scorecard section is accompanied by 2 additional chapters of teaching – one looking at principles to consider before you start writing and another on writing your posts. You also get a section which works you through an example post from here on ProBlogger which shows you how to rate a post step by step.
All up this eBook is over 100 pages in length and is the ideal companion for any blogger looking to improve their writing.
Book Details
Paperback: 101 pages
Publisher: ProBlogger (2010)
Language: English
Download [3.6 MiB]