Trading Beyond the Matrix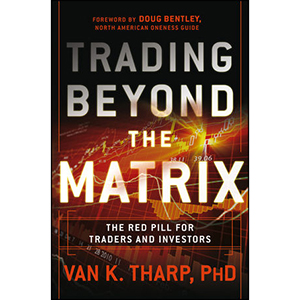 How to transform your trading results by transforming yourself
In the unique arena of professional trading coaches and consultants, Van K. Tharp is an internationally recognized expert at helping others become the best traders they can be. In Trading Beyond the Matrix: The Red Pill for Traders and Investors, Tharp leads readers to dramatically improve their trading results and financial life by looking within. He takes the reader by the hand through the steps of self-transformation, from incorporating "Tharp Think"—ideas drawn from his modeling work with great traders—making changes in yourself so that you can adopt the beliefs and attitudes necessary to win when you stop making mistakes and avoid methods that don't work. You'll change your level of consciousness so that you can avoiding trading out of fear and greed and move toward higher levels such as acceptance or joy.
A leading trader offers unique learning strategies for turning yourself into a great trader
Goes beyond trading systems to help readers develop more effective trading psychology
Trains the reader to overcome self-sabotage that obstructs trading success
Presented through real transformations made by other traders
Advocating an unconventional approach to evaluating trading systems and beliefs, trading expert Van K. Tharp has produced a powerful manual every trader can use to make the best trades and optimize their success.
Table of Contents
SECTION I: TRANSFORMATION OF THE TRADING GAME: UNDERSTANDING THE BASICS
Chapter 1. I Just Made 130 Percent—and That Was Just the Beginning
Chapter 2. The Automation of Tharp Think
Chapter 3. From Commercial Loan Officer to Financially Free Trader Investor
Chapter 4. From Army Major to Systems Expert
Chapter 5. Using Tharp Think to Go from Full-Time Broker to Full-Time Trader
Chapter 6. Adapting Tharp Think to Your Trading
SECTION II: PSYCHOLOGICAL TRANSFORMATIONS TO HELP YOU FUNCTION AT A SUPERIOR LEVEL WITHIN THE MATRIX
Chapter 7. Beliefs: The Basis for the Matrix
Chapter 8. A Journey through the Stunning World of Feelings and Trapped Emotions
Chapter 9. You Are a Crowd of Conflicting Parts Inside
Chapter 10. My Inner Guidance: A Personal Journey of Miracles
Chapter 11. My Experiences Using Transformational Meditation
Chapter 12. Creating Your Own World
SECTION III: MOVING BEYOND THE MATRIX BY TRANSFORMING YOUR LEVEL OF CONSCIOUSNESS
Chapter 13. How I Turbocharged My Transformational Journey
Chapter 14. From Engineer to Spiritual Warrior: A Trading Journey
Chapter 15. A Professional Trader's Journey beyond the Matrix
Chapter 16. My Journey to Trading in the Now
Chapter 17. Thoughts on Raising Your Level of Consciousness
Chapter 18. Continuing the Journey
Book Details
Hardcover: 432 pages
Publisher: Wiley (February 2013)
Language: English
ISBN-10: 1118525663
ISBN-13: 978-1118525661
Download [4.8 MiB]