Prezi For Dummies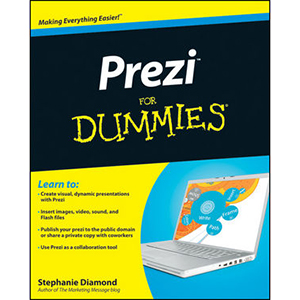 A one-stop resource for an exciting new Web-based, slide-free presentation tool!
People who have been seeking a flashier version of PowerPoint have found it—and it's Prezi. A Web-based, slide-free presentation tool, Prezi allows users to create and give rich, Web-based presentations complete with dynamic content, contextual layouts, and eye-catching visuals. Prezi For Dummies gets you rapidly up to speed, including how to think outside the traditional slide, create your project, insert Flash and other graphic files, and publish your presentation to a public domain. You'll also learn valuable tips on what makes a good Prezi.
Introduces Prezi, a Web-based, Flash-friendly, dynamic presentation tool
Explains how to use online and offline editors and insert images, video, sound, Flash files, and other complex graphics
Covers presenting a Prezi, publishing it to a public domain, and collaborating with others
Offers tips and insights on what makes a good Prezi—and how to think visually to create content that benefits your business or organization
Move beyond slides, put your visual thinking cap on, and get the very most of Prezi with this timely, practical guide.
From the Back Cover
Presenting a whole new approach to presentations — start creating prezis today!
Prezi makes you a digital storyteller! Forget boring slides; Prezi is like a digital whiteboard on which you create presentations with unlimited possibilities. It's easy, but it requires a new way of thinking. This book gets you in the right frame of mind, introduces you to the revolutionary interface, and helps you create prezis for every purpose!
Slide past slides — explore the freedom Prezi's format makes possible and the competitive edge it offers
Pick a plan — decide how you will use Prezi and sign up for the right account
About that zebra — explore the Prezi interface, bubble menus, and Zebra editing tool
Show, don't tell — see how to construct your presentation as a story with a plot, a hero, and a hook to hold your audience
Media mania — add images, videos, and PDFs to your prezi
Your brain on Prezi — maximize the power of Prezi tools by understanding how the brain processes a presentation
Use Prezi power — brainstorm with Prezi, use it to develop a killer business plan, or create your own branded prezi
Not just for business any more — use Prezi to create scrapbooks or as a teaching tool in the classroom
Open the book and find:
Steps for creating a prezi
How to use the Bubble menu
Tips on collaborating with Prezi
Where to find reusable content
Cool ways to use graphics
How to make a prezi public or keep it private
What mind maps are and how to use them
Ten interesting things about visual thinking
Learn to:
Create visual, dynamic presentations with Prezi
Insert images, video, sound, and Flash files
Publish your prezi to the public domain or share a private copy with coworkers
Use Prezi as a collaboration tool
Book Details
Paperback: 336 pages
Publisher: For Dummies (September 2010)
Language: English
ISBN-10: 0470625864
ISBN-13: 978-0470625866
Download [2.9 MiB]