Interactive Project Management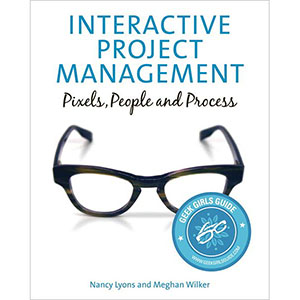 As an industry, interactive is different. The work entails elements of software development, marketing, and advertising, yet it's neither purely technical nor traditional "agency" work. Delivery methods are different, and because the industry is relatively new, the gap in understanding between the clients buying the work and the teams building it is often wide. Enter the geek girls guide. Nancy Lyons and Meghan Wilker don't just tell you how to deliver digital work, they demonstrate how to think about it.
Interactive Project Management: Pixels, People, and Process helps clients, agencies, and industry professionals better understand the critical role of interactive project management, and presents a collaborative, people-focused approach to delivering high-quality digital work.
In this book, the authors:
Define the unique characteristics of interactive projects
Explain the importance of emotional intelligence in the workplace
Discuss communication techniques that help teams work together more efficiently
Outline a process and specific deliverables that clarify how to think about critical aspects of a project
Provide questions, tasks, tips, and advice that effectively move teams from initiation to launch
Table of Contents
Chapter 1. The Interactive Industry: It's people. It's technology. It's everywhere.
Chapter 2. Interactive Project Management 101: A new job for a unique industry
Chapter 3. Emotional Intelligence: Technology doesn't drive projects, people do
Chapter 4. Communication: Right message. Right medium. Right time.
Chapter 5. The Process: Getting digital done right
Chapter 6. Project prep: Put all your ducks in a row
Chapter 7. Project definition: Assess, outline, align
Chapter 8. Project Production: Let the fun begin
Chapter 9. Project Staging: Feedback and fine-tuning
Chapter 10. Project Launch: Hello, world
Chapter 11. Project Closure: That's a wrap
Book Details
Paperback: 192 pages
Publisher: New Riders Press (April 2012)
Language: English
ISBN-10: 0321815157
ISBN-13: 978-0321815156
Download [14.8 MiB]