The VueScan Bible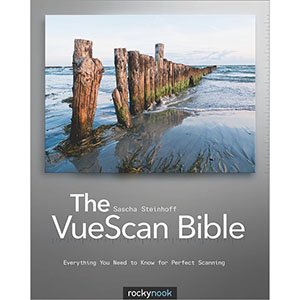 VueScan is the world's most widely used software interface for digitizing film and prints on flatbed and film scanners. This powerful yet affordable program supports over 1500 scanners and 321 digital camera RAW file types, and is available for Mac OS X, Windows, and Linux.
Much more than a simple scanner program, VueScan allows you to perform functions such as color restoration, adding sharpening filters, adjusting white balance, rotating images, and batch scanning multiple images. It also provides output to a variety of formats including TIFF, JPEG, and searchable PDF files (even all three simultaneously). The Pro version outputs to the RAW format and provides options for color adjustments, and more.
Despite its popularity, the documentation for VueScan does not provide enough information to use the full power of the system and makes it difficult to get started. The VueScan Bible is the missing manual for new, experienced, and prospective users of VueScan.
Table of Contents
Chapter 1. VueScan – Look and Feel
Chapter 2. Initial Setup
Chapter 3. Resolution and Scanning
Chapter 4. File Formats
Chapter 5. Scanning Media Types
Chapter 6. Special Scanning Techniques
Chapter 7. Scanning Workflows
Chapter 8. Reference – Input Tab
Chapter 9. Reference – Crop Tab
Chapter 10. Reference – Filter Tab
Chapter 11. Reference – Color Tab
Chapter 12. Reference – Output Tab
Chapter 13. Reference – Prefs Tab
Chapter 14. Menus, Buttons, and Shortcuts
Book Details
Paperback: 176 pages
Publisher: Rocky Nook (June 2011)
Language: English
ISBN-10: 1933952695
ISBN-13: 978-1933952697
Download [23.2 MiB]