Digital Wedding Photography Secrets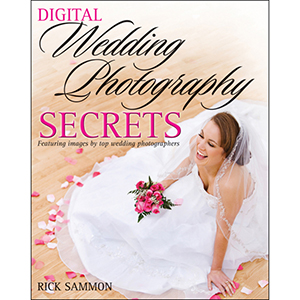 A full-color guide to taking stunning wedding photos from "America's Most Popular Photo Expert"
—Rick Sammon
Wedding photography has grown into a major industry with droves of digital photographers in the field, all looking for a competitive edge. Whether you're new to the field or you're looking for some fresh new ideas, this full-color guide is packed with more than 200 tips, tricks, and secrets for taking stunning and memorable digital wedding photos.
Top photographer and Canon Explorer of Light Rick Sammon explores the wedding photography market from the angles of both novice and experienced digital photographers and offers guidance for choosing and using digital camera equipment, accessories, software, and printing options.
"America's Most Popular Photo Expert" Rick Sammon shows you how to set up the scene for an incredible wedding shot—both posed and candid
Shows how to prepare for a variety of conditions in all types of settings, including exotic locales
Demonstrates best practices for post-shoot digital darkroom workflow
Explains how to manipulate photos to include impressive effects
Brimming with lavish inspirational color photos, this is the must-have book if you're looking to bring a unique style to your wedding photography skills.
Table of Contents
Part 1. Rick's Recipe
Part 2. Lights, Camera, Computers… Action
Part 3. The Studio Shoot
Part 4. Weekend Wedding Photographer
Part 5. Pros Share Their Shooting Secrets
Part 6. The Woman's Touch
Part 7. The Creative Touch
Part 8. Photoshop Must-Know Info
Part 9. Photoshop Enhancements
Book Details
Paperback: 240 pages
Publisher: Wiley (March 2009)
Language: English
ISBN-10: 0470481099
ISBN-13: 978-0470481097
Download [137.1 MiB]