The Power of Communication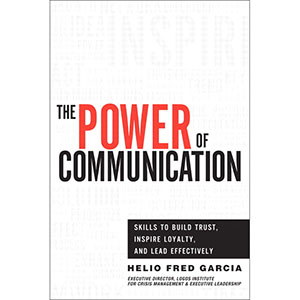 Communication is the absolutely indispensable leadership discipline. But too often leaders and professional communicators get mired in tactics and fail to influence public attitudes in the ways that would help them most. The Power of Communication is the solution. World-renowned leadership communication expert Helio Fred Garcia builds on the U.S. Marine Corps' legendary publication Warfighting, showing how to apply the Corps' proven leadership and strategy doctrine in all forms of public communication–and achieve truly extraordinary results.
Garcia demonstrates how to orient on audiences, recognize their most critical concerns, and successfully communicate on three levels: strategic, operational, and tactical. You'll learn how to take the initiative and control the agenda…respond to events with speed and focus…use the power of maneuver…prepare and plan…and put it all together, becoming a "habitually strategic" communicator.
Communication has power, but, as with any powerful tool, it needs to be used effectively or it can cause significant self-inflicted harm. You'll learn specific, indispensable lessons of leaders communicating effectively, including Apple's Steve Jobs and the McDonald's board, as well as from catastrophic mistakes of business and political leaders who got it wrong, from BP's Tony Hayward to the HP board to FEMA.
If you need to win hearts and minds, you need The Power of Communication–and you need it now.
Words matter: taking language seriously as a leadership discipline
Adapt language to changing circumstances and to the reactions they generate
Words aren't enough
Learn how what a leader says sets expectations, but what a leader does determines whether trust rises or falls
Take your audience seriously
Connect with your audiences as living, breathing entities
Speed, focus, and capturing the first mover advantage
Define your situation, motives, and actions–before someone else does
Saying it isn't enough
Master the bearing, physicality, and stagecraft of successful public leadership
Audiences, attention, and retention
Learn how hearts and minds work–and get them to work together for you
"Helio Fred Garcia coached me a decade ago on the fundamentals of effective communication. I probably wasn't his best student, but I count what I learned from him as one of the most important contributions to my personal growth as an executive. The Power of Communication should be on the must-read list of any person who aspires to lead by capturing the hearts and minds of his or her stakeholders."
–Jeffrey Bleustein, Retired Chairman and CEO, Harley-Davidson, Inc.
"The Power of Communication is an absolutely terrific book on how to communicate and lead in complex and shifting situations. Helio Fred Garcia has compiled a wealth of compelling examples to illustrate and support a cogent and immensely practical set of principles for leadership communication. The result is a compelling guide for leaders in business and government settings alike."
–Amy C. Edmondson, Novartis Professor of Leadership and Management, Harvard Business School, and author of Teaming: How Organizations Learn, Innovate, and Compete in the Knowledge Economy
"Helio Fred Garcia is known as one of the most engaging and effective professors at NYU. Readers of this book will learn why. Only Fred could weave together tales about Abbott and Costello, the Marine Corps, and Cicero into a must-read for anyone who hopes to connect with the American public."
–Louis Capozzi, Chairman, MSL Group (retired), and Adjunct Professor, New York University
"Professor Garcia's book is great news for decision-makers, leaders, and professionals in the U.S. and any country in the world. The Power of Communication contains some very important global wisdom to save you in crisis in an omni-media age. The pity is that he can visit China only once a year, but that gives us all the more reason to celebrate the publication of this book, a very clear, concise, interesting, and powerful masterpiece."
–Professor Steven Guanpeng Dong, Ph.D., Chair and Director, Institute of Public Relations and Strategic Communications, Tsinghua University, Beijing; Vice President, China Public Relations Association; former Shorenstein Fellow on the Press, Politics, and Public Policy, Kennedy School of Government, Harvard University
"The Power of Communication is story after story, insight after insight, lesson after lesson, inspiration after inspiration. Just when you think it's impossible to find another important illustration of a crucial communication or leadership principle, Fred gives you another chapter of powerful, sensible, often surprising and charming stories and lessons. Believe me, he is a persuasive orator in person and, as you'll read, on paper. Looking to build your powers of communication, to inspire trust and confidence, and to lead effectively? You hold in your hand the key ingredient to a happier, more successful, and influential professional life. Start reading."
–James E. Lukaszewski, ABC, APR, Fellow PRSA, President, The Lukaszewski Group Division, Risdall Public Relations
Book Details
Hardcover: 336 pages
Publisher: FT Press (April 2012)
Language: English
ISBN-10: 013288884X
ISBN-13: 978-0132888844
Download [3.4 MiB]