Content is Cash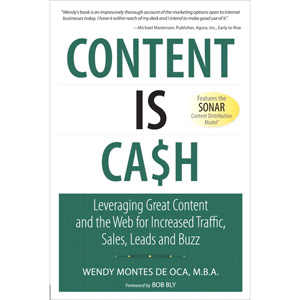 "Wendy's book is an impressively thorough account of the marketing options open to Internet businesses today. I have it within reach of my desk and I intend to make good use of it."
–Michael Masterson, Publisher, Agora, Inc., Early to Rise
You've already got great content — now, monetize it!
Dozens of top publishers, marketers, business owners, and entrepreneurs are already using Wendy Montes de Oca's SONAR Content Distribution ModelTM to earn amazing ROI from content they already have. You can, too—even if you've never done Internet marketing before! Content Is Cash shows you how to systematically integrate and synchronize today's best web marketing techniques to drive more traffic, buzz, leads, and sales for your business. It's not theory. It's a proven, cost-effective and real-world strategy allowing anyone with content to turn traffic into profits…and the results are quantifiable!
Inside you'll find powerful, easy, and virtually no cost ways to maximize content syndication, online PR, social networking and bookmarking, article directories, and guerrilla marketing inforums and message boards…to achieve breakthrough results on even the smallest budget!
You'll Learn How To:
Discover and leverage useful, valuable, actionable content you didn't know you had
Drive more value from content by repurposing, repackaging, refreshing, re-bundling, and republishing
Create more visibility, traffic, and awareness for your website and brand
Link content more tightly with prospecting and sales initiatives
Syndicate and aggregate content to extend its reach
Make your content easier to find on the Web—simply and inexpensively
Adapt your strongest content into high-performing online press releases
Encourage viral marketing, pass-along readership and word-of-mouth buzz
Measure your performance against the 3 O's: outputs, outcomes, and objectives
Apply SONAR techniques and increase search engine presence, organic visits, lead generation, and sales efforts
Use SONAR with other tactics such as affiliate marketing, joint ventures, online advertising, ad swaps, guest editorials and more
Book Details
Paperback: 240 pages
Publisher: Que (August 2011)
Language: English
ISBN-10: 0789741083
ISBN-13: 978-0789741080
Download [17.9 MiB]