The Guild Leader's Handbook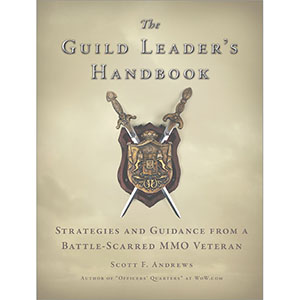 Who said dragon slaying was easy? Leading a guild in massively multiplayer online (MMO) games like World of Warcraft is more difficult than most players think. Your members look to you to solve problems, plan raids and battles, and lead them to riches and renown.
In The Guild Leader's Handbook, you'll learn how to create, build, and maintain a successful guild. Author Scott F. Andrews, a longtime guild leader and guild advice columnist for WoW.com, will show you how to guide your guild to glory. Whether you're trying to confront a monstrous threat, conquer your rivals, or simply reign supreme as the wealthiest traders in the galaxy, The Guild Leader's Handbook offers invaluable guidance to help you achieve your goals.
You'll learn how to:
Plan successful raids, player vs. player battles, roleplaying sessions, and contests
Deal with problem players and keep a lid on guild-fracturing drama
Solve loot issues and choose the best loot system for your guild
Boost your guild's morale, reputation, and server presence
Promote and motivate an effective officer corps
Organize fun and safe real-world guild meetings and events
Whether you're an established guild leader in need of sage advice or a dedicated player seeking to form your own community, The Guild Leader's Handbook is an essential guide to managing a guild successfully in any MMO game.
Table of Contents
Chapter 1. Forging a Guild Identity
Chapter 2. Humble Origins: Foundations of a Successful Guild
Chapter 3. Nonhuman Resources: Recruiting Players and Evaluating Recruits
Chapter 4. Dramatis Personae: Dealing with Guild Drama
Chapter 5. Epic Encounters: Raiding as a Guild
Chapter 6. The Protocols of Plunder: Loot Distribution
Chapter 7. PvP and Roleplaying Guilds
Chapter 8. The Burdens of Command: Managing Officers
Chapter 9. The Long Term
Chapter 10. IRL: Dealing with Reality
Book Details
Paperback: 216 pages
Publisher: No Starch Press (April 2010)
Language: English
ISBN-10: 1593272588
ISBN-13: 978-1593272586
Download [13.7 MiB]