Moods and Markets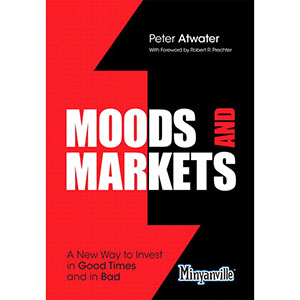 Leading consultant and Minyanville contributor Peter Atwater has helped institutional investors, corporations and policymakers map changing social moods to emerging market shifts, and use that knowledge to identify huge new market opportunities.  Now, Atwater shows you how to use the same powerful Horizon PreferenceTM approach to select your own high-performance investments.   Utilizing what is often in plain sight, but overlooked and underestimated, Horizon Preference helps you understand how we narrow our physical, time and relationship horizons to the "local" in bad times, and widen them to the "global" in better times — and then translate that knowledge into better investment decisions.  Atwater's Moods and Markets offers powerful new insights into everything from market bubbles to the real challenges of making mergers work… why "farm to table" and "locavore" movements are booming now, and what's likely to happen next… why Americans now want to rent homes even though it's become far more affordable to buy them… why the "Arab Spring" is bullish, and higher education is in deep trouble… which businesses prosper in a downturn, which prosper most in an upturn — and why. This book will be an invaluable resource for every serious investor, trader, and money manager.
From the Back Cover
"Behavioral investing is the next frontier."
–Joshua Steiner, Managing Director, Hedgeye Risk Management
"A thought-provoking piece that is a 'must read' for investors of all types."
–Randy Johanneck, former Chief Risk Officer, J.P. Morgan Private Wealth Management
"Moods and Markets gives you a great view into the window of investing psychology that few possess."
–Branden Rife, Head of West Coast Trading, Concept Capital Markets
"An invaluable guide to what promises to be a very difficult and turbulent period ahead."
–Sherle R. Schwenninger, Director, Economic Growth Program, New America Foundation
"This book resets your worldview."
–Michael Powell, President and CEO, National Cable & Telecommunications Association, and former Chairman, FCC
"Behavioral finance meets industry practitioner."
–Keith R. McCullough, Chief Executive Officer, Hedgeye Risk Management
"A very useful guide to investors who are looking for an edge to enhance their portfolio returns."
–Smita Sadana, Founder, Sunrise Capital Management LLC
"This book is a must read for anyone who wants to understand the 'why' rather than the 'what' as we prepare ourselves with a forward and proactive lens."
–Todd Harrison, Founder and CEO, Minyanville Media, Inc.
"I can see Moods and Markets on the nightstands of big thinkers around the world."
–Bernard Del Rey, CEO, Capital Position Ventures, and former Global Head of Marketing, Morgan Stanley Investment Management
"This book will challenge everything you thought you knew about investing. And you will be better for it."
–Stephanie Pomboy, President, MacroMavens, LLC
"This book breaks new ground and offers a better chance of understanding the complex concept of mood."
–Rob Roy, Chief Investment Officer, Cain Brothers Asset Management
Peter Atwater has used his exclusive "Horizon Preference" approach to help top asset managers, major endowments, and hedge funds map changes in social moods to shifts in the markets and to identify huge new market opportunities. Now, he shows serious investors how to use the same powerful techniques these top global investors already rely on.
Building on insights from Elliott Wave Theory and Robert Prechter's work in socionomics, Moods and Markets shows how we naturally narrow our physical, time, and relationship horizons to the "local" in bad times and widen them to the "global" in better times. Atwater's easy-to-understand framework helps investors quickly identify the direction of social mood and the markets using readily available, but frequently overlooked, clues from the world around us. To Atwater there is no coincidence to the Occupy Wall Street movement, The Hunger Games, Downton Abbey, farm-to-table dining, and the rise of Facebook with our volatile stock markets today. Moods and Markets explains why.
Through numerous recent real-life examples, readers will gain deeper insights into short- and long-term investment trends in virtually every key market sector. Along the way, Atwater helps you to identify the consistent mood-based characteristics of market turning points that don't show up in conventional analysis–and that can disastrously impact your portfolio if you miss them.
Moods and Markets explains:
The difference between mood and emotion–and why mood matters more
How to use mood to identify significant market tops and bottoms
How changing moods drive public sector decisions that impact your portfolio
Today's market mood and where we may be headed–and how to decide for yourself
Book Details
Hardcover: 208 pages
Publisher: FT Press (July 2012)
Language: English
ISBN-10: 0132947218
ISBN-13: 978-0132947213
Download [5.8 MiB]