New Programmer's Survival Manual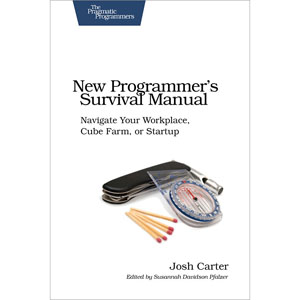 Programming at industry level requires new skills – you'll build programs that dwarf anything you've done on your own. This book introduces you to practices for working on large-scale, long-lived programs at a professional level of quality. You'll find out how to work efficiently with your current tools, and discover essential new tools.
But the tools are only part of the story; you've got to get street-smart too. Succeeding in the corporate working environment requires its own savvy. You'll learn how to navigate the office, work with your teammates, and how to deal with other people outside of your department. You'll understand where you fit into the big picture and how you contribute to the company's success. You'll also get a candid look at the tougher aspects of the job: stress, conflict, and office politics.
Finally, programming is a job you can do for the long haul. This book helps you look ahead to the years to come, and your future opportunities–either as a programmer or in another role you grow into.
There's nothing quite like the satisfaction of shipping a product and knowing, "I built that." Whether you work on embedded systems or web-based applications, in trendy technologies or legacy systems, this book helps you get from raw skill to an accomplished professional.
Table of Contents
Part I: Professional Programming
Chapter 1. Program for Production
Chapter 2. Get Your Tools in Order
Part II: People Skills
Chapter 3. Manage Thy Self
Chapter 4. Teamwork
Part III: The Corporate World
Chapter 5. Inside the Company
Chapter 6. Mind Your Business
Part IV: Looking Forward
Chapter 7. Kaizen
Book Details
Paperback: 300 pages
Publisher: Pragmatic Bookshelf (November 2011)
Language: English
ISBN-10: 1934356816
ISBN-13: 978-1934356814
Download [4.2 MiB]