The Art of Managing Professional Services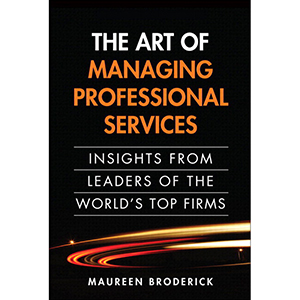 Building and managing a professional service firm is very different from running a product-based business. Infrastructure, governance, talent acquisition and retention, and compensation and financial management vary significantly from traditional corporate environments. Conventional management advice doesn't offer all the answers, and mainstream business gurus rarely address the unique challenges facing professional service firm leaders.
The Art of Managing Professional Services is one of the most comprehensive, research-based guides to firm management ever written for
the industry. Based on more than 130 in-depth interviews with leaders of the world's top firms, the book offers practical, proven, best practices on how to tackle the ten critical areas that firm leaders must monitor to build and maintain a strong organization: vision, values, and culture; people; clients; services; finance; positioning; partnership; strategy; structure; and leadership style.
Maureen Broderick draws on her 30 years of experience in professional services to explore both the art and science of running a high performance firm. She presents tangible processes and programs—including 40 featured best practices—that readers can tailor to their own organizations and cultures. Inside you will learn:
How to create and maintain a shared vision, values, and culture
Best programs to recruit, train, and retain great people
Strategies to develop and manage a profitable portfolio of clients
What it takes to innovate services and share knowledge
The key metrics to monitor financial health
Insights into effective positioning, marketing, and selling firm services
Proven practices for rewarding and managing the partnership
A guide to both long-term and annual strategic planning
Balancing structure and governance in a consensus-driven organization
Secrets for leading "incredibly smart and independent people"
Review
"High praise for Maureen Broderick…. Her book gives firm leaders a step up in competing on the global landscape."
–James Turley, Chairman and CEO, Ernst & Young
"Anyone involved in the management of a professional service firm will find real value here."
–David Childs, Global Managing Partner, Clifford Chance
"Maureen Broderick brings shape and clarity to the vital, but abstract, essence of professional service firms."
–Ralph Shrader, Chairman and Chief Executive Officer, Booz Allen Hamilton
"Broderick's book is filled with best practices that will help all kinds of companies–whether they are professional service firms or not–meet the challenges of doing business in the 21st century."
–Ray Kotcher, Senior Partner and Chief Executive Officer, Ketchum
"Every professional service partner–and aspiring partner–should read this book."
–Paul Laudicina, Managing Officer and Chairman, A.T. Kearney
"This comprehensive overview of best practices from the world's leading firms will resonate with leaders and managers."
–Eric Friedman, Executive Partner, Skadden, Arps
"The takeaways are fantastic!"
–Andy Cohen, Co-CEO, Gensler
"One only needs to read this book to realize that managing a professional service firm is very much an art, if not a science, worthy of its own special study and examination."
–Mike Goss, Managing Director and COO, Bain Capital
Book Details
Hardcover: 320 pages
Publisher: Prentice Hall (October 2010)
Language: English
ISBN-10: 0137042523
ISBN-13: 978-0137042524
Download [7.5 MiB]