Microsoft Dynamics GP 2013 Cookbook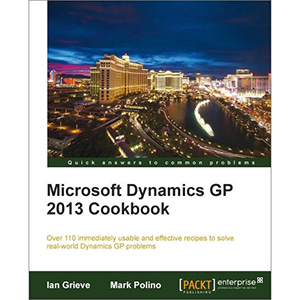 Microsoft Dynamics GP is an enterprise resource planning system, essentially an accounting system on steroids, designed for mid-sized organizations. The implementation of Dynamics GP is usually considered to be complex, and people often realize there must be more efficient ways of working with the system. This book will show readers how to improve their use of Dynamics GP and get the most out of this tool quickly and effectively.
"Microsoft Dynamics GP 2013 Cookbook" picks up where implementation training leaves off. Whether you are new or experienced you will find useful recipes for improving the way you use and work with Dynamics GP. The clear recipe steps and screenshots make implementing these solutions easy for users of any level and will be sure to improve your efficiency with the Dynamics GP 2013 system.
The book starts with recipes designed to enhance the usefulness of Microsoft Dynamics GP by personalizing the look and feel of the application. Most of the recipes are designed to give tips for a typical installation of Dynamics GP, including core financials and distribution modules. The book then moves through recipes that include automating Dynamics GP to allow users or administrators to focus on value adding tasks, harnessing the power of SmartLists to leverage both simplicity and power, connecting Dynamics GP to Microsoft Office 2013, exposing hidden features in Dynamics GP, and much more!
Through the final chapters, the book covers system maintenance and extending Dynamics GP with the Support Debugging Tool and Professional Services Tools Library.
What you will learn from this book
Personalise Microsoft Dynamics GP to improve accessibility and efficiencies
Use the tools in the Professional Services Tools Library to improve processes or amend data efficiently
Maintain Dynamics GP and ensure proper operation of the system using optimum processes
Efficiently organize Microsoft Dynamics GP to improve processes
Leverage the power of SmartLists using proven tips and techniques and undocumented search functionalities
Connect Microsoft Dynamics GP 2013 to Microsoft Office 2013
Enhance the usability of Microsoft Dynamics GP with hacks
Expose hidden features in Microsoft Dynamics GP to improve efficiency and get more from the system
Deploy and use the Support Debugging Tool to trace, locate, and resolve problems encountered by users
Approach
"Microsoft Dynamics GP 2013 Cookbook" is a highly practical beginner to intermediate Cookbook to improve your efficiency and master your use of Microsoft Dynamics GP 2013. All the recipes are time-proven; real-world tested, and designed to be used immediately.
Who this book is for
If you're a Dynamics GP partner or Dynamics GP user, primarily focused on delivering application optimizations, then "Microsoft Dynamics GP 2013 Cookbook" is for you.
This book assumes that you have a basic knowledge of Microsoft Dynamics GP, a basic understanding of business management systems, and some exposure to Microsoft SQL Server.
Book Details
Paperback: 348 pages
Publisher: Packt Publishing (June 2013)
Language: English
ISBN-10: 1849689385
ISBN-13: 978-1849689380
Download [25.0 MiB]