Business Intelligence, 2nd Edition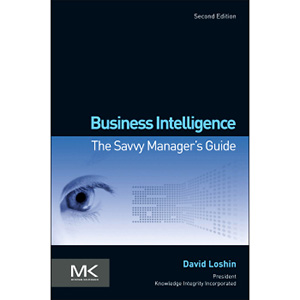 Following the footsteps of the first edition, the second edition of Business Intelligence is a full overview of what comprises business intelligence. It is intended to provide an introduction to the concepts to uncomplicate the learning process when implementing a business intelligence program.
Over a relatively long lifetime (7 years), the current edition of book has received numerous accolades from across the industry for its straightforward introduction to both business and technical aspects of business intelligence.
As an author, David Loshin has a distinct ability to translate challenging topics into a framework that is easily digestible by managers, business analysts, and technologists alike. In addition, his material has developed a following (such as the recent Master Data Management book) among practitioners and key figures in the industry (both analysts and vendors) and that magnifies our ability to convey the value of this book.
Guides managers through developing, administering, or simply understanding business intelligence technology
Keeps pace with the changes in best practices, tools, methods and processes used to transform an organization's data into actionable knowledge
Contains a handy, quick-reference to technologies and terminology.
Table of Contents
Chapter 1. Business Intelligence – An Introduction
Chapter 2. Value Drivers
Chapter 3. Planning for Success
Chapter 4. Developing a Business Intelligence Roadmap
Chapter 5. The Business Intelligence Environment
Chapter 6. Business Models and Information Flow
Chapter 7. Data Requirements Analysis
Chapter 8. Data Warehouses and the Technical BI Architecture
Chapter 9. Business Metadata
Chapter 10. Data Profiling
Chapter 11. Business Rules
Chapter 12. Data Quality
Chapter 13. Data Integration
Chapter 14. High Performance BI
Chapter 15. Alternate Information Contexts
Chapter 16. Location Intelligence and Spatial analysis?
Chapter 17. Knowledge Discovery, Data Mining, and Analytics
Chapter 18. Using Publicly Available Data
Chapter 19. Knowledge Delivery
Chapter 20. New and Emerging Techniques
Chapter 21. Quick Reference
Book Details
Paperback: 400 pages
Publisher: Morgan Kaufmann; 2nd Edition (October 2012)
Language: English
ISBN-10: 0123858895
ISBN-13: 978-0123858894
Download [7.2 MiB]