The Adobe Photoshop Lightroom 4 Book for Digital Photographers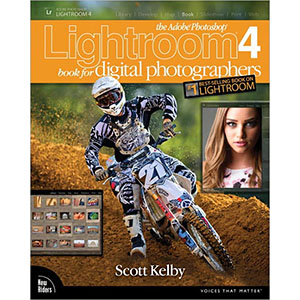 Since Lightroom first launched, Scott Kelby's The Lightroom Book for Digital Photographers has been the world's #1 best-selling Lightroom book. In this latest version for Lightroom 4, Scott uses his same step-by-step, plain-English style and layout to make learning Lightroom easy and fun. Scott doesn't just show you which sliders do what, and he doesn't just cover the newest features of Lightroom (though, of course, he does that, too, with discussions of the improved Clarity feature, White Balance adjustment brush, photo book capabilities, and much more). Instead, by using the following three simple, yet brilliant, techniques that make it just an incredible learning tool, this book shows you how to create your own photography workflow using Lightroom:
Scott shares his own personal settings and studio-tested techniques.  He trains thousands of Lightroom users every year, and knows first hand what really works and what doesn't.
The entire book is laid out in a real workflow order with everything step by step, so you can begin using Lightroom like a pro from the start.
What really sets this book apart is the last chapter. This is where Scott dramatically answers his #1 most-asked Lightroom question, which is: "Exactly what order am I supposed to do things in, and where does Photoshop fit in?"
The Adobe Photoshop Lightroom 4 Book for Digital Photographers is the first and only book to bring the whole process together in such a clear, concise, and visual way.
Table of Contents
Chapter 1. Importing
Chapter 2. Library
Chapter 3. DSLR: The Movie
Chapter 4. Customizing
Chapter 5. Editing Essentials
Chapter 6. DJ Develop (Part Deux)
Chapter 7. Local Adjustments
Chapter 8. Problem Photos
Chapter 9. Exporting Images
Chapter 10. Jumping to Photoshop
Chapter 11. Book of Love
Chapter 12. Slideshow
Chapter 13. The Big Print
Chapter 14. The Layout
Chapter 15. My Portrait Workflow
Book Details
Paperback: 504 pages
Publisher: Peachpit Press (May 2012)
Language: English
ISBN-10: 0321819586
ISBN-13: 978-0321819581
Download [341.0 MiB]