Canon EOS 6D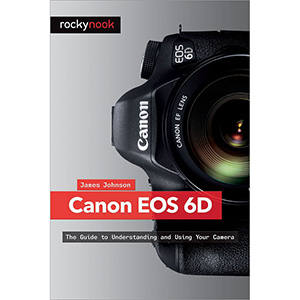 The Canon EOS 6D is the latest of Canon's full-frame DSLR cameras. Its impressive array of advanced capabilities allows the photographer more influence over the final image.
This book's exploration of the EOS 6D goes beyond that of the user's manual. It provides illustrations, step-by-step setting adjustments, helpful suggestions for setup, and detailed explanations for each of the camera's many features and menu configurations. The text is illustrated with easy-to-follow screenshots and example images. This book will also introduce intermediate-level camera users to DSLR model-differentiating features: built-in GPS and Wi-Fi. The content covers effective use of the camera's hardware (and some software) as well as certain related accessories, with little emphasis on general photography.
Author James Johnson covers everything from basic camera features to advanced photographic options. With this book as your guide, you'll learn to successfully use this powerful camera.
Table of Contents
Chapter 1. The Equipment
Chapter 2. Buttons, Dials, Knobs, and Their Purposes
Chapter 3. Managing Dials, Buttons, and Switches
Chapter 4. Finding and Interpreting Image-Related Information
Chapter 5. Capturing Light—The Exposure Parameters
Chapter 6. Capturing the Image—Composition and Focus
Chapter 7. Utilizing Some of the Camera's Advanced Features
Chapter 8. The Shoot1 Menu
Chapter 9. The Shoot2 Menu
Chapter 10. The Shoot3 Menu
Chapter 11. The Shoot4 Menu
Chapter 12. The Live View Shooting Menus
Chapter 13. Movie-Mode-Specific Menus
Chapter 14. The Playback Menus
Chapter 15. The Set Up Menus
Chapter 16. The Custom Functions Menu
Chapter 17. The My Menu Menu
Chapter 18. Adding Illumination
Chapter 19. After the Shutter is Tripped
Book Details
Paperback: 280 pages
Publisher: Rocky Nook (August 2013)
Language: English
ISBN-10: 193753829X
ISBN-13: 978-1937538293
Download [25.8 MiB]