Technical Analysis For Dummies, 2nd Edition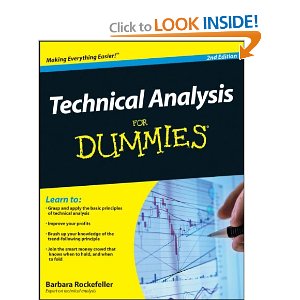 A simple, straightforward guide to the fundamentals of technical analysis
Technical analysis is a collection of techniques designed to help people make trading decisions. Technical Analysis For Dummies, 2nd Edition explains the basic principles and shows you how to apply these principles in an approachable and non-intimidating way.
Since the publication of the first edition of Technical Analysis For Dummies, readers have been faced with many changes to the investment landscape, such as new interest rates, looming bank crises, and adjusting market climates. This updated edition includes information on the new indicators, hands-on applications for real-world situations, as well as practical examples that reflect today's financial atmosphere.
Determine how markets are performing and make decisions using real data
Spot investment trends and turning points Improve your profits and your portfolio performance
With straightforward coverage of concepts and execution, Technical Analysis For Dummies shows you how to make better trading decisions in no time.
From the Back Cover
A simple, straightforward guide to the fundamentals of technical analysis
Savvy traders have been using technical analysis for over a century. It's easier than ever with PCs and the Internet to use technical analysis to make smarter trading decisions. This hands-on, friendly guide gives you plain-English explanations of everything you need to know to put money in a securities market to astounding results.
Open the technical analysis toolbox — get a clear overview of what technical analysis is and how it lets you observe prices in a new way to make trading decisions
Get in the technical mind frame — discover how to select indicators that match your personality and preference for risk, and get to know the types of profit and loss outcomes typical to each
Set the bar — understand how to observe price bars and small patterns to earn cold, hard cash
Be trendy — use indicators to identify whether your price is trending, the strength of the trend, and when the trend is at a reversal
Open the book and find:
Why technical analysis does and doesn't (always) work
Ways to identify crowd behavior and patterns
When to use chart indicators
How to draw a trendline
Guidance on transforming channels into forecasts
The simple arithmetic needed for dynamic analysis
Tips for measuring momentum
Why timing is everything
Expert examples
Learn to:
Grasp and apply the basic principles of technical analysis
Improve your profits
Brush up your knowledge of the trend-following principle
Join the smart money crowd that knows when to hold, and when to fold
Book Details
Paperback: 360 pages
Publisher: For Dummies; 2nd Edition (January, 2011)
Language: English
ISBN-10: 0470888008
ISBN-13: 978-0470888001
Download [12.0 MiB]