IBM Cognos 10 Framework Manager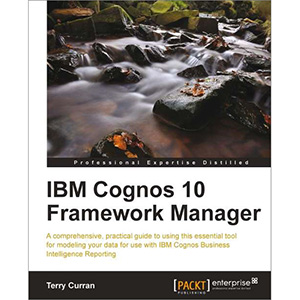 "IBM Cognos 10 Framework Manager" is a complete practical guide to using and getting the best out of this essential tool for modeling your data for use with IBM Cognos Business Intelligence Reporting. With its step-by-step approach, this book is suitable for anyone from a beginner to an expert, complete with tips and tricks for better data modeling.
"IBM Cognos 10 Framework Manager" is a step by step tutorial-based guide; from importing your data to designing and improving your model, and creating your packages while working with other modelers, every step is presented in a logical process.
Learn how to use the best design strategy to design your model, create an import layer, a modeling layer, and a presentation layer to make your model easy to maintain. Do you need to design a DMR model? No problem, this book shows you every step. This book can even make working with other users easier – we will show you the methods and techniques for allowing others to work on the same model at the same time. Need to create dynamic data structures to change the way the data is presented to your users so your French users can see the data in French, your German users in German, and your English users in English? You can do all this with parameter maps.
"IBM Cognos 10 Framework Manager" continues where the product manuals end, showing you how to build and refine your project through practical, step by step instructions.
What you will learn from this book
Learn how to import and model your relational data
Create useful reporting packages for your authors
Utilise parameters and parameter reports effectively
Improve functionality and manage a multi-user model
Learn how to use Model Design Accelerator to create your first model
Approach
Presented in a hands-on style, this guide presents you with real world examples to guide you through every process step by step.
Who this book is for
This book will be useful for any developer, novice or expert, who uses Framework Manager to build packages, but wants to expand their knowledge even further.
Book Details
Paperback: 186 pages
Publisher: Packt Publishing (May 2013)
Language: English
ISBN-10: 1849685762
ISBN-13: 978-1849685764
Download [23.0 MiB]