Teach Yourself VISUALLY Windows 8 Tablets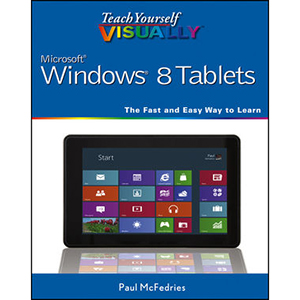 A visual guide to all the features of the new Windows 8 Tablet
This must-have resource features visually rich, step-by-step instructions that show you how to get the most enjoyment from your Windows 8 tablet. Learn about the exciting new Metro UI, optimized specifically for touch devices. The most popular and commonly used apps and functions are covered too, along with the basics of syncing with a network, setting up e-mail, watching videos, listening to music, and common productivity tasks. This book provides all the guidance needed to enjoy all the best the new Windows 8 tablets have to offer.
Includes information on Microsoft's Windows 8 and the new Metro UI in a clear and easy-to-navigate visual manner
Contains over 125 Windows tablet tasks, illustrated with full-color screenshots
Offers clear, step-by-step instructions
Consistent placement of information makes learning fast and efficient
Teach Yourself VISUALLY Windows 8 Tablet offers concise, step-by-step instruction that's perfect for visual learners.
From the Back Cover
Are you a visual learner? Do you prefer instructions that show you how to do something — and skip the long-winded explanations? If so, then this book is for you. Open it up, and you'll find clear, step-by-step screen shots that show you how to tackle more than 150 tasks with a Windows 8 tablet. Each task-based spread covers a single technique, sure to help you get up and running on your Windows 8 tablet in no time.
You'll learn to:
Control Windows 8 with gestures
Shop for, install, and update apps
Use e-mail and instant messaging
Display locations and weather info
Create and manage user accounts
Designed for visual learners
Two-page lessons break big topics into bite-sized modules
Succinct explanations walk you through step by step
Full-color screen shots demonstrate each task
Helpful sidebars offer practical tips and tricks
Table of Contents
Chapter 1. Getting Started with Windows 8
Chapter 2. Working with Apps
Chapter 3. Customizing Windows 8
Chapter 4. Surfing the Web
Chapter 5. Sending E-mail and Messages Create a Contact 108
Chapter 6. Getting Social with Your Tablet
Chapter 7. Working with Multimedia
Chapter 8. Performing Day-to-Day Tasks
Chapter 9. Configuring Your Tablet
Chapter 10. Creating and Editing Documents
Chapter 11. Working with Files
Chapter 12. Sharing Your Tablet with Others
Chapter 13. Implementing Security
Chapter 14. Maintaining Windows 8
Book Details
Paperback: 336 pages
Publisher: Wiley / Visual (October 2012)
Language: English
ISBN-10: 1118374851
ISBN-13: 978-1118374856
Download [76.4 MiB]