Microsoft System Center 2012 Orchestrator Cookbook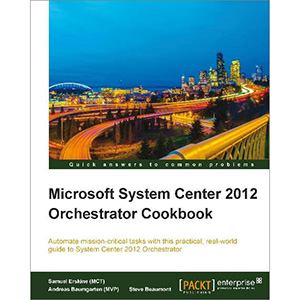 Microsoft System Center Orchestrator 2012 simplifies the process of automating systems administration tasks. Originally a third-party product named Opalis, which Microsoft acquired in 2009, Orchestrator provides a simplified way of building complex automation. System Center Orchestrator is a complete solution that goes beyond basic automation.
"Microsoft System Center 2012 Orchestrator Cookbook" will teach you how to plan, create and manage powerful runbooks to help you automate mission-critical and routine administration tasks.
In this practical Cookbook you will learn how to master System Center 2012 by creating runbooks to control and automate every feature possible. You will start by learning how to efficiently install and secure System Center Orchestrator.
You will then learn how to plan and create functional and fault-tolerant System Center runbooks to automate daily tasks and routine operations. Diving deep into runbooks, you will learn how to create powerful and practical runbooks for the entire System Center family of products.
Unleashing your inner control freak, you will then master System Center automation by creating IT Service Management process runbooks and advanced runbooks to help you control every feature imaginable of System Center. If you want to save time and energy automating mission critical tasks with System Center 2012 Orchestrator, then this book is for you!
What you will learn from this book
Create runbooks for Active directory tasks and IT Service Management processes
Design and create runbooks for System Center Configuration Manager, Operations Manager, and Virtual Machine Manager
Secure System Center Orchestrator with SSL certificates
Create branching, looping and child runbooks to completely master System Center 2012 Orchestrator
Install and make System Center Orchestrator fault tolerant
Manage and automate your datacentre with powerful runbooks
Automate your System Center environment
Approach
This book is written in a practical, cookbook style with numerous chapters and recipes focusing on creating runbooks to automate mission-critical and everyday administration tasks.
Who this book is written for
"Microsoft System Center 2012 Orchestrator Cookbook" is for administrators who wish to simplify the process of automating system administration tasks. This book assumes that you have a basic knowledge of Windows Server 2008 Administration, Active Directory, Network Systems and Microsoft System Center technologies.
Book Details
Paperback: 318 pages
Publisher: Packt Publishing (August 2013)
Language: English
ISBN-10: 1849688508
ISBN-13: 978-1849688505
Download [22.6 MiB]