Teach Yourself VISUALLY Photoshop Elements 11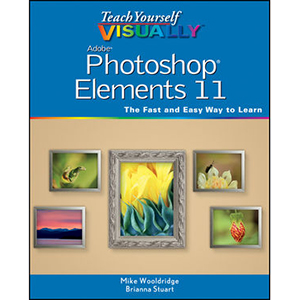 Full-color, step-by-step instruction for using the new Photoshop Elements 11
Covering the most important features of Photoshop Elements 11, this book is packed with step-by-step instructions illustrated with full-color screen shots that clearly shows you how to do tasks, instead of resorting to lengthy explanations. Even better, the book includes an associated website with all the images in the book available for download, so you can get hands-on practice as you go. With this book, veteran author Mike Wooldridge gets up to speed on the latest and best that Photoshop Elements 10 has to offer.
Walks you through the improved organizational and navigational tools that will help you categorize images
Details the enhanced tool for converting color images to B&W as well as the Flash-based web gallery templates to display images
Covers importing photos from digital cameras and scanners, retouching and repairing damaged photos, enhancing digital images, perfecting group shots with Photomerge, and editing images for posting on the web
Helps you utilize the sharpness interface to correct blurry images as well as the Curves tool to adjust contract and brightness
Teach Yourself VISUALLY Photoshop Elements 11 makes learning the new Photoshop Elements elementary!
From the Back Cover
Are you a visual learner? Do you prefer instructions that show you how to do something — and skip the long-winded explanations? If so, then this book is for you. Open it up and you'll find clear, step-by-step screen shots that show you how to tackle more than 160 Photoshop Elements tasks. Each task-based spread covers a single technique, sure to help you get up and running on Photoshop Elements 11 in no time.
You'll learn to:
Import and organize your images
Apply basic image edits
Enhance and retouch photos
Adjust brightness and contrast
Create effects with filters
Designed for visual learners
Two-page lessons break big topics into bite-sized modules
Succinct explanations walk you through step by step
Full-color screen shots demonstrate each task
Helpful sidebars offer practical tips and tricks
Table of Contents
Chapter 1. Getting Started
Chapter 2. Importing and Opening Digital Images
Chapter 3. Organizing Your Photos
Chapter 4. Using Advanced Organizing Tools
Chapter 5. Applying Basic Image Edits
Chapter 6. Making Selections
Chapter 7. Manipulating Selections
Chapter 8. Using Layers
Chapter 9. Enhancing and Retouching Photos
Chapter 10. Improving Lighting and Exposure
Chapter 11. Enhancing Colors
Chapter 12. Painting and Drawing on Photos
Chapter 13. Applying Filters
Chapter 14. Adding Text Elements
Chapter 15. Applying Styles and Effects
Chapter 16. Presenting Photos Creatively
Chapter 17. Saving and Sharing Your Work
Book Details
Paperback: 384 pages
Publisher: Wiley (October 2012)
Language: English
ISBN-10: 1118362381
ISBN-13: 978-1118362389
Download [91.2 MiB]